Spend Time at the Thule Tomb Archaeological Site in Mykonos
Written by GreekBoston.com in About Mykonos, Greece, Greek Travel Guide Comments Off on Spend Time at the Thule Tomb Archaeological Site in Mykonos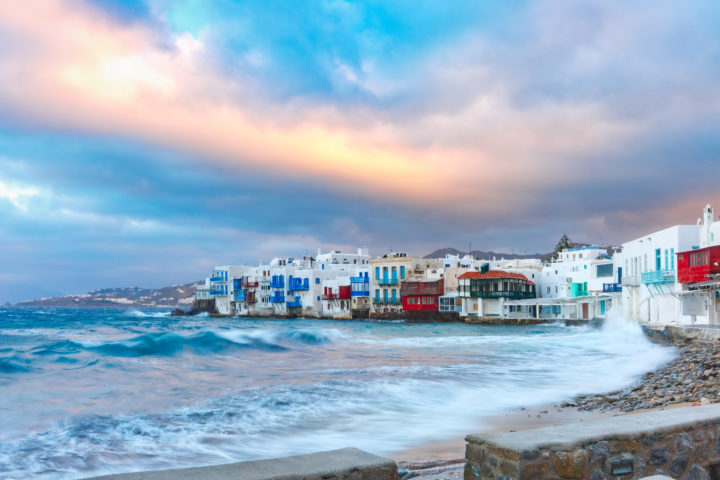 The Greek island of Mykonos holds many wonders. The Cycladic architecture of the island is charming and the beaches are inviting. Evidence shows that Mykonos, Greece has been inhabited since Neolithic times. If you want to explore history while visiting Mykonos, you should spend time at the Thule Tomb Archaeological Site.
About the Thule Tomb Archaeological Site
During construction of a hotel in Mykonos, the ruins of a 2nd century BC tomb were discovered. During the Mycenean period, a king had the Thule tomb built for his queen to show his power and express his love for her. When the tomb was excavated, two gold necklaces, cylices, pots, and a number of amphorae were found. Some of these items are on display at the Archaeological Museum in Chora.
What remains of the tomb today is the circular structure that was built of large stones. The site of the tomb was also where Barbarossa would build his observatory years later.
The Greek explorer Pytheas of Massalia (Marseille, France) is thought to have been the first to write about Thule after his travels that took place between 300 – 320 BC. He mentioned going to Thule and how he was sent there to find out where their trade goods were coming from. Greek astronomer Geminus of Rhodes said the name Thule likely went back to an archaic word for the polar night phenomenon.
Visit the Thule Tomb Archaeological Site
The ruins of the 2nd century BC tomb are on display next to the building of the Tharroe of Mykonos luxury hotel where the Thule Tomb was discovered when the hotel was under construction. The remains of the tomb includes large stones that form a circular structure. It is supported by a wooden frame and covered with metal sheets for the tomb's protection.
You can view Thule Tomb as part of a tour that allows you to discover the historical side of Mykonos. Other stops on such a tour may include sites such as the Archaeological Site of Delos and Kastro Panigiraki. A tour is beneficial as you will learn the history of the Thule Tome from a knowledgeable guide.
While in the area visiting the Thule Tomb, stop by the Tharroe of Mykonos luxury hotel for dinner and drinks. The hotel is located on a small hill and offers a wonderful panoramic view and the perfect place to watch the sun set over the Aegean Sea. From this location you can also see the windmills and Mykonos Old Town Center. The hotel also offers wine tastings of selected wines from the Cyclades.
You can get to Mykonos, Greece by ferry or by plane. Once on the island you can get around by foot, bus, car, or motorbike. Mykonos is a small island, so you won't find it difficult to get from one place to another.
If you love history, you won't want to miss seeing the Thule Tomb in Mykonos, Greece.
Categorized in: About Mykonos, Greece, Greek Travel Guide
This post was written by GreekBoston.com
Like this article? Please share below: