Great Places to Shop in Athens: Monastiraki and Omonia Square
Written by GreekBoston.com in About Athens, Greece, Greek Travel Guide Comments Off on Great Places to Shop in Athens: Monastiraki and Omonia Square
About a half a mile west of down Ermou Street will lead you to the historic Monastiraki Square [Πλατεία Μοναστηρακίου] translates as Little Monastery. Ermou Street is named for the god of commerce-Hermes, and with several foreign and local clothing stores, it is the main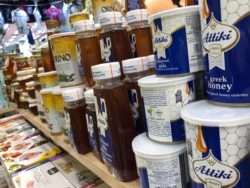 shopping street of Athens and has ranked as one of the most expensive in Europe. Monastiraki is home to countless restaurants, sites, venders and shops including the Athens Flea Market.
The square is named after the small Byzantine Church of Panagia Pantanassa built in the 10th Century that still stands on the side of the square. The square gives one of the best cross sections of the history of Athens. With the Ancient Greek Acropolis rising prominently behind the square, you can also see Hadrian's Library built by the Romans in the 2nd Century AD, the 10th Century Byzantine Church, as well as the 18th Century Tsisdarakis Mosque built by the Ottoman Turks.
The Monastiraki metro station is one of the main transfer stations on the Athens Metro. Lines 1 and 3 meet under the square, and the surrounding stops [Kerameikos, Syntagma, Thissio] are all very popular areas with tourists and locals alike. During the station's expansion for the 2004 Olympic Games, glass floors were included so you can see ancient Roman remains, and even see the Eridanos River flow through the station.
A little over ¾ of a mile Northwest of Syntagma square takes you to Omonoia Square [Πλατεία Ομονοίας] translates as Concorde Square. Omonoia used to be the vibrant commercial heart of the city of Athens and it has undergone several re-designs since its creation in the 19th Century. Unfortunately a combination of the economic crisis and unsuccessful redevelopment attempts has made the once bustling area particularly seedy and popular to immigrants, drug users and prostitutes. Many Athenians and travelers alike will advise you to avoid Omonoia Square, especially at night. Despite its current state, plans are underway to hopefully restore the square to its former glory through the Rethink Athens campaign. Omonoia is an important transport hub in Athens with lines 1 and 2 of the Athens Metro transferring at Omonoia Station.
Omonoia Square is linked with Syntagma Square through Stadiou Street and Eleftherios Venizelos Avenue. To add some extra confusion, though the street signs say Eleftherios Venizelos Avenue, the street is widely called and referred to as Panepistimio Street [For the University next to it]. This border of the Historic Triangle lacks the ancient sites found closer to Monastiraki and the Acropolis, but it does feature several historic landmarks from the early 19th Century when Athens became the national capital. These include the Old Greek Parliament building, the famous Neoclassic Trilogy (The National Library of Greece, the National and Kapodistrian University of Athens, and the Academy of Athens) and Klafthmonos Square.
Knowing the three main squares of Athens, as well as some beginner knowledge about the streets that link them, the city center quickly shakes off its confusing character and is much easier to move about in. The fact that these three squares are where all of the Metro lines converge makes it that much easier to begin exploring the city.
Categorized in: About Athens, Greece, Greek Travel Guide
This post was written by GreekBoston.com
Like this article? Please share below: