Go Wine Tasting While in Santorini
Written by Greek Boston in About Santorini, Greece, Greek Travel Guide Comments Off on Go Wine Tasting While in Santorini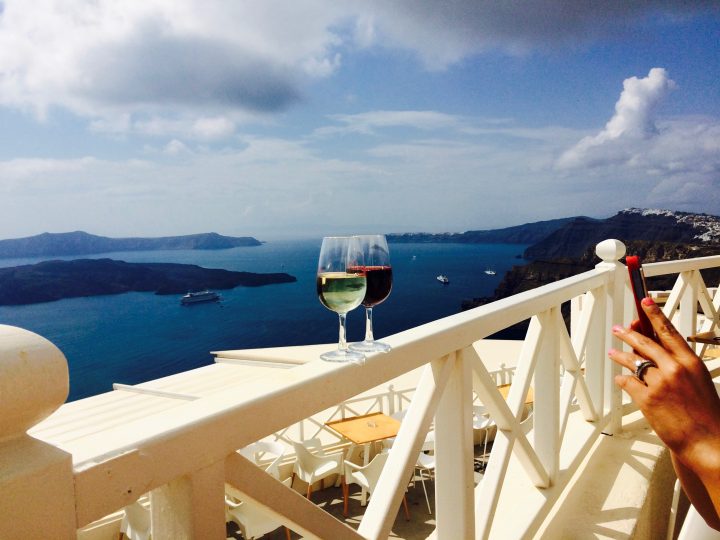 Santorini is one of those idyllic travel destinations that seems like it came from a different time place. The island itself has a unique physical appearance, thanks to its volcanic history. There is also a lot to see and do here, including enjoying the gorgeous views and the unique qualities of the island.
The volcanic past of the island also gives the soil some unique characteristics. This means that everything that grows on the island is also unique, and this includes the wine. As a result, wine tasting is something that you should try while on the island. Here's more information:
Winemaking Began in Ancient Greece
Archaeologists tell us the first wine was produced in Greece as early as 4500 BCE. True, other locations have been identified as older. To date, the world's oldest evidence for human-made wine was found on pottery fragments in the former Soviet Republic of Georgia. These samples date back to 8000 BCE.
However, if you're looking for a region that bears a millennial-spanning continuous tradition of winemaking and a culture that is infused with the fermented fruit of the vine, then Greece is the obvious choice.
Wine is mentioned in both the Iliad and the Odyssey. The Greeks recognized gods whose sole purpose was to shepherd the development of winemaking and bring the art to its optimal achievement. The Greek god most associated with wine is Bacchus, although earlier Dionysus was considered the "goddess of grape making."
Sampling Wine in Santorini
As mentioned above, Santorini is a volcanic island. It is located in the Aegean Sea located about 120 miles from the southern coast of mainland Greece. It is the southernmost member of the Cyclades group of islands. Its capital city is Fira, population 13,500. The total population of Santorini Island is 15,550.
Santorini and a group of other Aegean islands, including Crete, Epirus and the Ionian Islands, are considered the primary wine-growing territories of Greece. This is "Ground Zero" for finding wines that are backed by untold centuries of tradition and which command the unique qualities, aromas, flavors and colors derived from vineyards that are unlike any other in the world.
How to Wine Taste in Santorini
It may not surprise you that there are numerous businesses that specialize in wine tasting excursions in Santorini. If you are unsure where to start, booking a tour with an experienced provider may be your best bet. You can easily find a tour by booking online before your trip, or you could ask around once you get to the island.
If you're a tad more adventurous and like to control your own destiny a bit more while you travel, you'll have little trouble finding local information about where you can go to sample wines. This will give you flexibility and allow you to taste the wines on your own terms. You may want to ask around to see which wineries are open to visitors.
A top suggestion is to seek out the Venetsanos Winery, a fantastic cliffside winery located in the Santorini village of Megalochori. Not only is the wine here sublime, even god-like, but the breathtaking view of the blue Aegean is life-affirming. Another superb choice is the Santo Wines Santorini located just outside the village of Pyrgos. That's less than two miles from Fira. Santo offers amazing wines and a cliffside caldera view that is so stunning you'll want to drink a toast to it.
You should definitely consider going wine tasting while on the Greek island of Santorini. The wines here are unique and worth trying.
PLEASE NOTE: The Greek travel section at GreekBoston.com are not paid reviews. Our unbiased and informative travel articles are designed review the popular cities, islands and places in Greece. We are not always able to exactly match the photos to the destinations, but we do try to get close. However, we are not looking for photo submissions at this time. If you find something in a Greek travel article that is not accurate based on your personal experience, please send us an email to greekboston@worldwidegreeks.com and we will consider your suggestions. Thanks for reading the travel section at GreekBoston.com!
Categorized in: About Santorini, Greece, Greek Travel Guide
This post was written by Greek Boston
Share this Greek Travel Article: