Top Places to Shop on Santorini Island
Written by Greek Boston in About Santorini, Greece, Greek Travel Guide Comments Off on Top Places to Shop on Santorini Island
Santorini is one of those Greek islands that draws a lot of visitors each year. People come here to experience the gorgeous Greek culture, view the scenery, and to have some quality relaxation. One of the pastimes people love while here is to browse through the shops.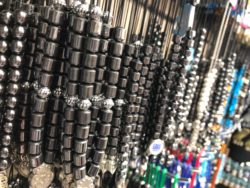 Here's a look at some of the most intriguing shops on the island:
Atlantis
Atlantis is a bookstore that is more than simply a place to buy books. There are beautiful views here and you can gaze at the sunset while browsing. it is located in the main square of Oia, located opposite of the Town Hall is precisely that spot. The bookstore was designed and opened by a group of American and European bookworms.
They wanted to create a beautiful location in the Mediterranean where one could find a comforting spot to unwind and rummage through a fantastic collection of books. One of the most breathtaking places in Greece you will find a wide selection of books ranging from poetry to philosophy.
Galanopoulos
The Galanopoulos Art Gallery is another great shop to browse that is located in Oia, Santorini. One thing that Santorini is known for is the presence of artists on the island. It is not only a great artist's retreat, but there are a lot of galleries to browse. Galanopoulos is definitely worth a visit. There is an extraordinary collection of artwork for use in interior design and home decoration. Open by Stavos Galanopulous in 1986 his shop offers a variety of sculptures and paintings in the traditional classic style. This is a must stop location for Art Lovers.
Iama
A major supplier of wine to the local luxury hotels and restaurants. The Iama Wine Shop will provide you with the most exceptional selection of wines and liquors from Greece and internationally. On the main road in Oia, the Iama wine shop has grown to be one of the most significant wine networking sites in the Mediterranean. In the summer months, the wine shop treats guests to free wine tasting once a week with eight specially chosen wines.
Replica
This unique gift shop is located on the Central Footpath in Oia. Replica Art Shop stocks a variety of pieces inspired by folklore and Greek traditions. Cycladic art represents a vast majority of the items you will find including vases, ceramics, frescoes, and terra cotta figures. There is an impressive grouping of glass objects and wall paintings from ancient Greece. Every product in the Replica Art Shop has been carefully handcrafted with extraordinary attention to detail.
Thiras Art
A contemporary art shop, Thiras Art offers works that have been inspired significantly by the techniques and themes of ancients artist. Two young artists, Marilena Sgountzou and Ilias Vlavianos, created the shop to provide a contemporary twist on traditional Greek art. In all of its elegance, this art shop showcases museum replicas, Byzantine paintings, and intricate jewelry. This art shop is located opposite of town hall in Fira.
Santorini, Greece has many shopping options available in their villages. The above locations will certainly not disappoint and are definitely worth a visit!
PLEASE NOTE: The Greek travel section at GreekBoston.com are not paid reviews. Our unbiased and informative travel articles are designed review the popular cities, islands and places in Greece. We are not always able to exactly match the photos to the destinations, but we do try to get close. However, we are not looking for photo submissions at this time. If you find something in a Greek travel article that is not accurate based on your personal experience, please send us an email to greekboston@worldwidegreeks.com and we will consider your suggestions. Thanks for reading the travel section at GreekBoston.com!
Categorized in: About Santorini, Greece, Greek Travel Guide
This post was written by Greek Boston
Share this Greek Travel Article: