Be Sure to Visit the Santorini Brewing Company
Written by GreekBoston.com in About Santorini, Greece, Greek Travel Guide Comments Off on Be Sure to Visit the Santorini Brewing Company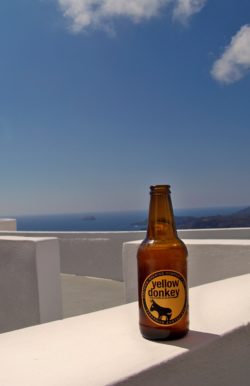 Each year, visitors from all over the world flock to Santorini to catch a glimpse of its beauty and enjoy a relaxing holiday. Visitors can take in a variety of activities, such as eat great food, enjoy the sunset, and see the sights. Another great thing that people can do while here is visit the Santorini Brewing Company. Although Greece isn't exactly known for its beer, this brewing company delivers consistently delicious beer. Here's more information:
About the Santorini Brewing Company
The Santorini Brewing Company was founded by four alcohol enthusiasts from four different corners of the world. Specialists from the United States, Greece, the United Kingdom, and Serbia teamed up to build a brewery on the island paradise of Santorini. The result has become a popular watering hole for locals and visitors alike. Even during times of immense pressure, the collective temperament of the four founders managed to blossom. Now, the Santorini Brewing Company is the proud producer of unique products that utilize raw materials from different parts of the world.
The Donkey Beer is Released
fter years of pain, sweat, and tears, the series of Donkey Beer was released. With pride and passion, the Santorini Brewing Company released three different versions. This line of beer boasts a rich and unfiltered taste and a lack of harmful preservatives. In addition to producing a tasty series of beer, this brewing company also hosts tours and free tastings. Visitors of the Santorini Brewing Company can enjoy a complimentary tour to witness the brewing process up-close. This free tour needs to be booked ahead of time.
Getting to the Santorini Brewing Company
The Santorini Brewing Company is conveniently located in the heart of the island. If you're staying in the stunning town of Girona, this brewing company will be in walking distance of most hotels. Here are some directions from other popular tourist destinations on the island.
Kratikos Airpot
If you want to head directly from the airport to the Santorini Brewing Company, there are many public transportation options. Visitors can take a bus or taxi to the town of Girona. If you're driving a rental car, simply drive in the direction of Giron. The brewery will be on your right.
Oia
Although Oia is one of the most popular destinations on the island of Santorini, this town isn't too close to the brewing company. Visitors have to drive along the coastal road towards the town of Girona. The scenic drive should only take around 30 minutes.
Visiting the Santorini Brewing Company is a great way to experience the local culture of the island while also receiving an in-depth look into the entire brewing process. Be sure to book a tour beforehand in order to ensure that there is enough space and so that you can get the full experience!
Categorized in: About Santorini, Greece, Greek Travel Guide
This post was written by GreekBoston.com
Like this article? Please share below: