Stop by the Amazing Akron Art Center Dimitrios Bellos in Santorini
Written by Greek Boston in About Santorini, Greece, Greek Travel Guide Comments Off on Stop by the Amazing Akron Art Center Dimitrios Bellos in Santorini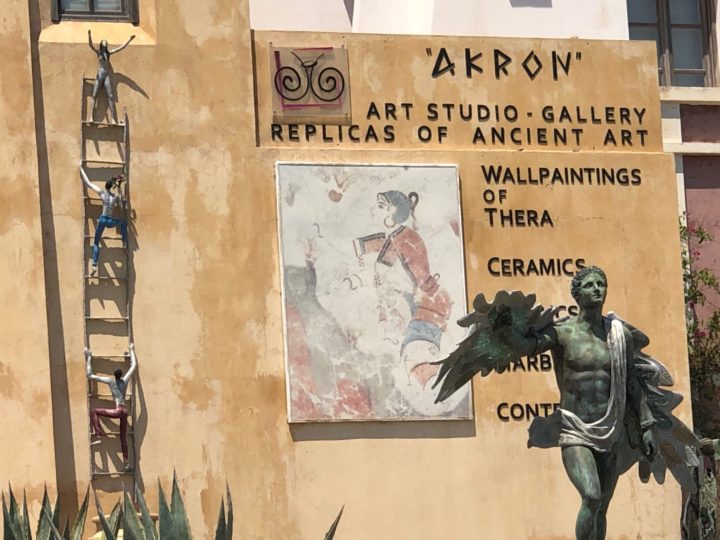 Santorini is an island that is known for its many charms. Besides its remarkably unique scenery, this is also an island that attracts artists. Not only do they come here to capture the beauty the island holds, but they also flock to the various galleries, museums, and art centers. The Akron Art Center Dimitrios Bellos is one of those places. Here's more information:
About the Akron Art Center
The Akron Art Center is devoted to preserving and showcasing various forms of ancient Greek art. The Art Center is a reconstruction of an early Greek workshop and displays reproductions of Akrotiri Thiras Wall Paintings, creates and sells replicas of ceramics and mosaics as well as contemporary art and is one of the largest restoration workshops in Greece and unique to Santorini.
Getting to the Akron Art Center
The Akron Art Center is located in Megalochori on Santorini island, which is about 200 kilometers southeast of Athens. There are many direct ferry connections from Athens to Santorini, or visitors could opt to fly into the island's airport. This is also a popular cruise destination, so if you are stopped here on your cruise you may want to consider stopping in.
On the road from Fira to Perissa are many hotels and rental accommodations and a five minute walk will take you straight to the door of the Akron Art Center. Housed in a beautiful stone building with imposing views of the Southern Aegean Sea, there is also parking available for visitors arriving by car.
History of the Akron Art Center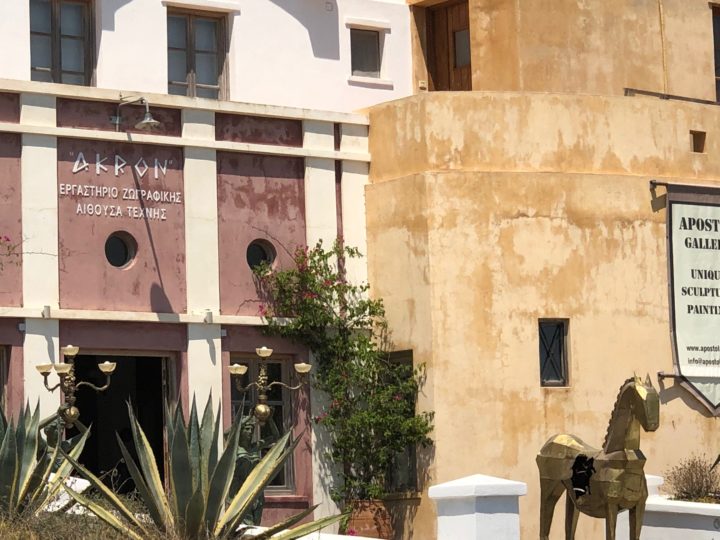 There are some interesting works on display at the Akron Art Center. For example, the original Akrotiri Thiras Wall Paintings, exhibited in the Museum of Prehistoric Thera in the town of Fira, were discovered during excavations in the 1960s and have provided art historians and archaeologists with many unknown details about the Minoan culture.The team of Aspasia Vovola and Dimitris Bellos first began in 1981 in Plaka, an old historical area of Athens, and they founded the Art Center on Santorini to revive, through reproduction, Greek history and its artistic traditions.
After Aspasia Vovola completed her training in Athens, she began specializing in wall paintings in Dijon, France before moving to Santorini in 1989 and beginning work on the reproduction of wall paintings found at Akrotiri. Dimitris Bellos also studied painting in Athens before moving to The Vatican to learn the art of restoring and creating mosaics and, for more than 20 years, has concentrated on working on replicas of ancient Greek art like mosaics, pottery and wall paintings.
Art on Display at the Akron Art Center
Here's a look at the art that is on display here at the Akron Art Center:
Akrotiri Thiras Wall Paintings—are complete replicas of the original paintings and are displayed in the workshop. The wall paintings depict the island's history of the ancient Aegean society and have been restored in their entirety using materials that are no longer used.
Pottery—copies of Minoan, Geometric and classical pottery from all regions of Greece are on show at the Art Center. They are all handmade and hand painted and available for sale to be shipped internationally to their new owners. Delivery times will depend on the country.
Mosaics—along with duplicates of other Greek works—are also handcrafted, sold and shipped abroad. The Art center spends time carefully packing overseas orders to ensure they will arrive in perfect condition at their destination.
At the Akron Art Center, you will have the chance to learn more about the ancient, Greek way of life, be in awe of the amazing duplicates of Greek art and be sure to want to take a piece home as a souvenir of your time here!
Source:
PLEASE NOTE: The Greek travel section at GreekBoston.com are not paid reviews. Our unbiased and informative travel articles are designed review the popular cities, islands and places in Greece. We are not always able to exactly match the photos to the destinations, but we do try to get close. However, we are not looking for photo submissions at this time. If you find something in a Greek travel article that is not accurate based on your personal experience, please send us an email to greekboston@worldwidegreeks.com and we will consider your suggestions. Thanks for reading the travel section at GreekBoston.com!
Categorized in: About Santorini, Greece, Greek Travel Guide
This post was written by Greek Boston
Share this Greek Travel Article: