Monasteries to Visit in Paros, Greece
Written by GreekBoston.com in About Paros, Greece, Greek Travel Guide Comments Off on Monasteries to Visit in Paros, Greece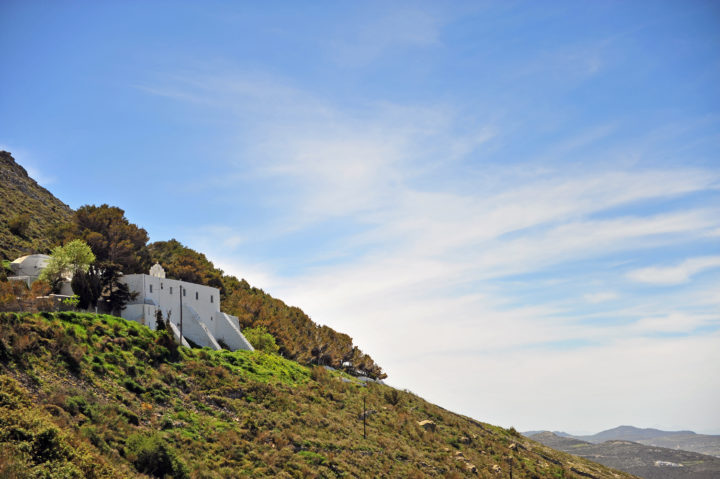 Paros, Greece is an island full of mystery, beauty, and culture. The island has been inhabited for at least 5,000 years, which has created a fascinating history to explore. Much of this history can be found in the monasteries of the island of Paros. When visiting Paros, Greece, you will want to visit some of these monasteries.
Monastery of Panagia Ekatodapyliani
Located a few meters from the port of Parikia in Paros, the Monastery of Panagia Ekatodapyliani is one of the most well-preserved Paleo-Christian monument in all of Greece. The original church was built in the 4th century AD as a three-aisled basilica. During the 6th AD, Byzantine Emperor Justinian added a dome to the monastery and made other renovations.
Throughout the centuries more renovations would be made leaving the monastery with Paleo-Christian, Byzantine, and post-Byzantine elements. Ekatodapyliani means "the church with the hundred doors." Tradition says the monastery has 99 doors as well as a secret door that will open when the Church of Hagia Sofia becomes Orthodox again. Around the Monastery of Panagia Ekatodapyliani are three other chapels and cells for the monks.
Monastery of Logovarda
The Monastery of Logovarda is 5 km from the Parikia, the capital of Paros. The monastery was constructed in 1638 and is dedicated to Zoodohos Pighi, which means "the life-giving source." The color of the monastery is the typical Cycladic white. The main church has wall paintings and valuable icons. The monastery is also home to a library that contains rare manuscripts and books. There is also a hagiography workshop on site that is operated by the monks. As a male monastery, the Monastery of Logovarda is open to male visitors only who are properly dressed.
Monastery of Christos Dasous
Located close to the village of Sotires on the island of Paros is the Monastery of Christos Dasous. This female monastery was previously the residence of the Mavrogenis family. The family donated the it to the Monastery of Ekatodapyliani. In 1805, the Monastery of Christos Dasous housed the first monastic community. The church located in the courtyard of the monastery features a domed basilica with a double bell tower and an entrance with three-arched doors. When leaving the monastery down the asphalt road toward the sea, you will come across some beautiful beaches to relax and swim at.
Church of Agia Triada
The Church of Agia Triada is located in the mountainous village of Lefkes in Paros. The church is a Byzantine temple that features unique architecture. The Church of Agia Triada is the second largest on the island of Paros. Construction of the church was completed in 1835. It is a basilica style church with three-aisles and wonderful arches. Bell towers sit on the left and right of the church. This imposing church on the island of Paros should not be missed.
Explore the monasteries of Paros, Greece for a glimpse into the history of the island.
Categorized in: About Paros, Greece, Greek Travel Guide
This post was written by GreekBoston.com
Like this article? Please share below: