Visit Iraklio Wine Country in Crete
Written by GreekBoston.com in About Crete Greece, Greek Travel Guide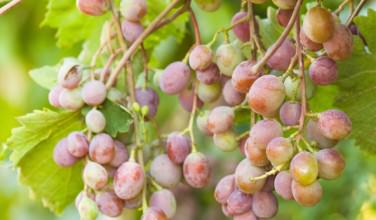 If you are a wine lover a trip to Crete isn't complete without a visit to the Iraklio Wine Country, which produces 70% of the wine from Crete. It starts south of Knossos and is headquartered in Peza. The winemakers of the area cultivate many indigenous Cretan grape varietals such as Kotsifali, Mandilari, and Malvasia. Many offer tours, tastings, and have wine museums.
3 of the most popular estates in the region are:
Boutari
The Boutari Company has over 130 years of experience in the wine business and is one of the top wineries in Greece as well as an ambassador of Greek wine all over the world. Boutari wines are exported to over 45 countries and have won over 370 medals in international wine competitions. Boutari owns six wineries in Greece. The Boutari Winery in Crete is located outside Skalani village on the Fantaxometocho Estate and was completed in early 2004. Visitors can enjoy a tour of the cellar, the production area, and the rest of the estate. The vineyard includes the red varieties Kotsifali, Mantilari, Syrah and the white varieties Chardonnay, Malvasia Aromatica and Moschato Spinas, among others.
Lyrarakis
This winery is located in one of the most noteworthy vineyard regions of Crete, namely at Alagni, Heraklion, the most mountainous village of the appellation area (AOC) of PEZA. The company was founded in 1966 and the founders decided to become professionally involved with the production of wine. The founding of the company was accompanied by planting some of the best local wine varieties, namely the white Vilana, and the reds Kotsifali and Mandilaria. The company only started bottling wines under the Lyrarakis family brand in the early nineties. The first vintage of Lyrarakis was 1992. The company is recognized as the leading quality producer on the island, focusing on the use of native varieties – some blends also use foreign varieties. The family is credited for reviving the two ancient local white varieties, Dafni and Plyto, which are part of the company's range of wines called "The Treasures of Crete".
Minos-Miliarikis
Minos is in its eighth decade and produces wine from local varieties, such as Kotsifali and Mandilari for reds and Vilana, Vidiano and Thrapsiri for whites. Miliarakis' Winery has created wine tasting and wine presentation premises at their facilities in Peza. Attractions include a museum, with old wine making machinery: wine presses, pumps, manually operated bottling machinery and a traditional stone wine press, a wine tasting room where visitors can taste various labels and become acquainted with the rich and interesting range of company wines, and a retail shop.
Categorized in: About Crete Greece, Greek Travel Guide
This post was written by GreekBoston.com
Like this article? Please share below: