Lounge on Chrisi Milia Beach in Alonissos
Written by Greek Boston in About Alonissos, Greece, Greek Travel Guide Comments Off on Lounge on Chrisi Milia Beach in Alonissos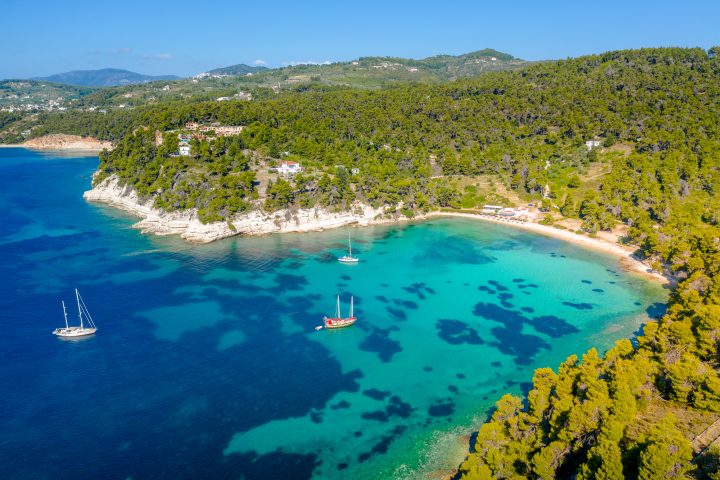 Chris Milia beach is a beautiful spot on the island of Alonissos and one of the most popular destinations for tourists who visit the Greek Island. It is surrounded by tall pine trees, which offer much-needed shade from the sun, and it has crystal clear water that you can swim in all year round. There are also many tavernas nearby where you can enjoy fresh seafood and other delicious dishes.
About Chrisi Milia Beach
One of the most popular beaches in Alonissos, Chrisi Milia is a beautiful spot that everyone should visit while on vacation. Located near Volimes, it has crystal clear waters and tall pine trees surrounding it, which offer much-needed shade from the sun. It also has many tavernas nearby where you can enjoy fresh seafood or other delicious dishes for lunch or dinner after spending quality time at the beach relaxing by the water's edge with your favorite book in hand.
Once you arrive at Chrisi Milia, there are many activities that you can do. You can spend a whole day sunbathing on the beautiful sandy beach, or if it is too hot out, then go for a refreshing swim in the calm waters of the sea to refresh yourself. If you need some relaxation before lunchtime hits, head over to one of the nearby tavernas so that they can serve up delicious food while enjoying a fantastic view of Alonissos' lush green mountains surrounding this gorgeous island paradise.
Getting to Chrisi Milia Beach
If you are taking a ferry to Alonissos, Chrisi Milia is located on the island's south side. Once you arrive at Volimes, head westwards towards Spartinos beach until you see some signs for Chris Milia pointing in that direction. It's about 15 minutes by car from Volimes, but if you don't have your transportation, there are taxis available, which can take you directly to this incredible spot! If it isn't peak season, parking might also be an option near the beach, so keep that in mind.
The bus stop that serves as a connection point between Volimes and Loutra Alonissos has only one sign indicating it. This bus stop isn't labeled "Volimes" but instead reads "Alonissos." If you are standing at this location facing away from town (i.e., looking towards Portaria), Chrisi Milia will be to your left after about 15 minutes of walking along the road. There are several signs on the way pointing in its direction. The bus stop is in front of a small taverna and mini-market, which you will see on your left when coming from Volimes (the side facing Loutra Alonissos).
There's only one sign at the point where the road splits between Volimes and Loutra Alonissos – this single sign points to both places. If you're standing at the spot indicated by this map, Chrisi Milia isn't too far away, but if for some reason you feel lost, ask any local around here about "Chris Milia" or simply "Milia." They'll know what place you are talking about!
Chrisi Milia Beach is a beautiful place to visit which has many nearby options for you to choose from regarding dining and recreation. If you are going to see the Greek Islands, this is one of the most beautiful locations.
PLEASE NOTE: The Greek travel section at GreekBoston.com are not paid reviews. Our unbiased and informative travel articles are designed review the popular cities, islands and places in Greece. We are not always able to exactly match the photos to the destinations, but we do try to get close. However, we are not looking for photo submissions at this time. If you find something in a Greek travel article that is not accurate based on your personal experience, please send us an email to greekboston@worldwidegreeks.com and we will consider your suggestions. Thanks for reading the travel section at GreekBoston.com!
Categorized in: About Alonissos, Greece, Greek Travel Guide
This post was written by Greek Boston
Share this Greek Travel Article: