Take a Day Trip to Thirassia Island While on Santorini
Written by Greek Boston in About Santorini, Greece, Greek Travel Guide Comments Off on Take a Day Trip to Thirassia Island While on Santorini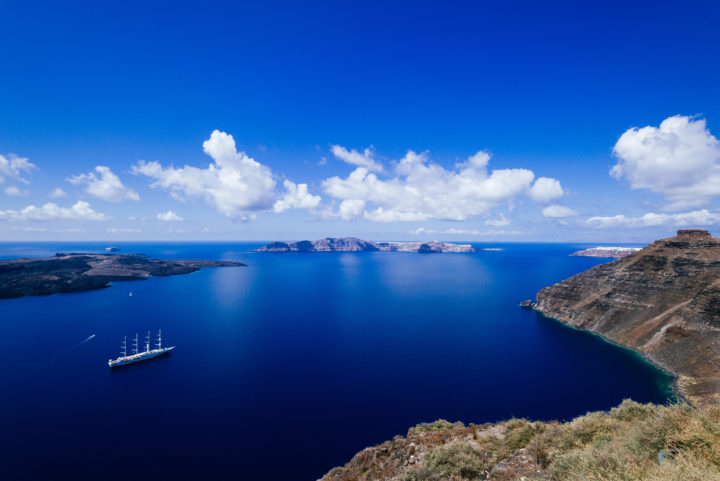 Santorini is no doubt a popular island to visit while in Greece. Not only is there plenty to do while on the island, but you can easily take day trips to the nearby island of Thirassia. This island was a part of Santorini before a volcanic eruption permanently separated them. Today, Thirassia remains underdeveloped, so you can get a feel for what Santorini used to look like before it got busy. People who visit Thirassia often come for only one day to take in the island's relative peace and pristine beaches, but there are plenty of other things to do, as well. Here's more information:
Getting to Thirassia Island from Santorini
There are many day trip boats that go from Santorini to Thirassia's port Riva. Most travel experts recommend going to Santorini's northern city Oia to find a good boat ride to Thirassia. Some tourists have also had luck finding a boat to Thirassia at Santorini's port cities Fira and Athinios. Boat schedules often change due to weather and the time of year. Obviously, it's far easier to find a boat during the height of tourism season in the summertime. By the way, you should definitely consider bringing a bike with you over to Thirassia to better explore this tiny island.
About Thirassia Island
As mentioned above, what we now know as Thirassia was actually a part of Santorini in the distant past. Sometime in the 2nd century BC, however, a huge volcanic explosion split Thirassia off of what's now considered Santorini. Today, Thirassia has five villages and only measures about 3,500 square miles. There are only about 300 permanent inhabitants living in Thirassia, most of whom live in the village Manolas. Since tourists don't visit this island as frequently, locals aren't as proficient with English as the residents of Santorini.
What to Do on Thirassia
Sure, you may only be on the island for a day, but while you're, you'll definitely want to make the most of it. Here's a look at some of the things you can do while here"
Go to the Beach. The main thing to do in Thirassia is relax. If you only stop at one beach while you're here, be sure to check out the one near the port of Riva. Whenever you've finished on the beach, walk around Manolas and admire the distinctive Greek painted houses. You're bound to find many beautiful gardens throughout Manolas as well, so be sure to bring your camera.
Visit a Church. There are at least 20 churches to explore while on Thirassia, and the most popular is the Monastery of the Assumption of the Virgin. For a great view of Santorini, climb to the top of the Chapel of Prophet Elias, which is situated on Thirassia's highest peak. A few other beautiful churches on this island include the Church of Agios Konstantinos and the Church of Agia Irini. If you could, try to plan your trip to Thirassia to line-up with the Nativity of the Blessed Virgin Mary on September 21st.
As you can see, Thirassia is an ideal vacation destination for people who want to rest and relax while in Greece. This isn't a heavily touristed island, which means that you will definitely have a chance to get away from it all.
PLEASE NOTE: The Greek travel section at GreekBoston.com are not paid reviews. Our unbiased and informative travel articles are designed review the popular cities, islands and places in Greece. We are not always able to exactly match the photos to the destinations, but we do try to get close. However, we are not looking for photo submissions at this time. If you find something in a Greek travel article that is not accurate based on your personal experience, please send us an email to greekboston@worldwidegreeks.com and we will consider your suggestions. Thanks for reading the travel section at GreekBoston.com!
Categorized in: About Santorini, Greece, Greek Travel Guide
This post was written by Greek Boston
Share this Greek Travel Article: