Enjoy the Amazing Views In Fira
Written by Greek Boston in About Santorini, Greece, Greek Travel Guide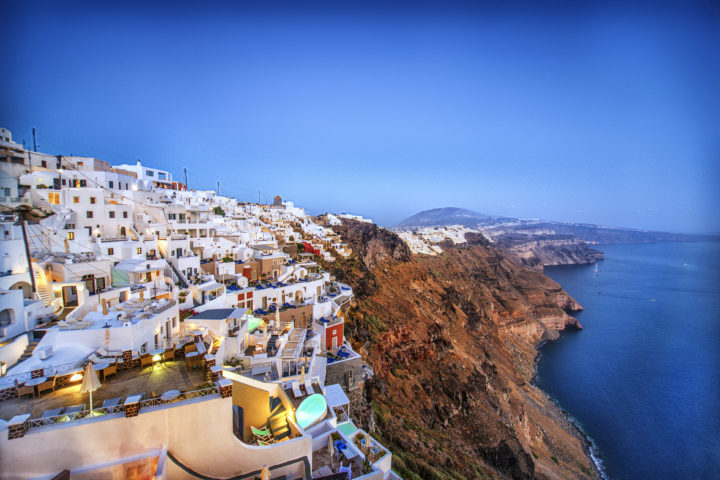 The capital of the Greek island of Santorini, Fira is a city known as much for its whitewashed houses as it is for its excellent tourist destinations.
While there are plenty of outdoor activities in Fira to share with you, the one I'm going to lead off with is one of the lesser known, yet one of the most beautiful. While you're in Fira, you have to go on one of the Santorini Photo Day Tours. Sure, you'll find some great photo opportunities during your stay on your own, but this photo tour guarantees some of the most amazing shots of the island imaginable. You will learn how to take beautiful photographs from a professional photographer, and take home not only some new and useful knowledge, but you'll also be taking home as many incredible photos as your heart desires.
You'll start to notice that a lot of the activities in Fira involve taking in the spectacular views and scenery of the island, and this one is no different. With Santorini Sailing, you'll be able to see the island from a whole new perspective. Take the half day tour and see all of the different beaches, explore the island's many rock formations, jump off the boat into the ocean to cool off, dive into the hot springs, go snorkeling, and even sail around a volcano! They serve a delicious lunch on board of the boat, which is both nice and convenient.
There are several museums in the Fira area, but if you only have time for one, make sure that you choose the Museum of Prehistoric Thera. This museum is extremely interesting, as, here, you will find ancient artifacts from Akrotiri, Santorini, which was buried by a volcanic eruption about 3,700 years ago in 1627 BCE. The city was destroyed when volcanic ash covered the city, ultimately preserving the artifacts that you will find at this museum. The museum is small in size, but it is full of information and incredibly preserved artifacts.
If you're done exploring, and it's time to unwind, there is no better place to do it than Palia Kameni Cocktail Bar. This is easily the most raved about spot in Fira; more than the museums, the boat tours and the historical landmarks, and for good reason. The views here are absolutely amazing, as the bar sits atop a cliff, which gives its patrons the most breathtaking view of the entire coastline. Beyond the stunning view, which is enough reason to go there regardless, the atmosphere is just what you're looking for. Great music — which is occasionally live music — excellent service and fantastic cocktails.
And if you're looking to try something in Fira that may take you a little bit out of your element or your comfort zone, you'll want to pay a visit to Fish Spa Kangal Santorini. This wellness center offers a unique service that may seem strange to some, but is actually quite popular. At Fish Spa Kangal Santorini, you can get a fish pedicure, which is exactly what it sounds like. First, you wash your feet, before dipping them into a fish tank. In this fish tank, tiny fish will then nibble on your toes and feet. No, it doesn't hurt, but it might tickle a little bit. But the end result is having silky smooth feet!
PLEASE NOTE: The Greek travel section at GreekBoston.com are not paid reviews. Our unbiased and informative travel articles are designed review the popular cities, islands and places in Greece. We are not always able to exactly match the photos to the destinations, but we do try to get close. However, we are not looking for photo submissions at this time. If you find something in a Greek travel article that is not accurate based on your personal experience, please send us an email to greekboston@worldwidegreeks.com and we will consider your suggestions. Thanks for reading the travel section at GreekBoston.com!
Categorized in: About Santorini, Greece, Greek Travel Guide
This post was written by Greek Boston
Share this Greek Travel Article: