Tour the Gaia Winery in Santorini
Written by Greek Boston in About Santorini, Greece, Greek Travel Guide Comments Off on Tour the Gaia Winery in Santorini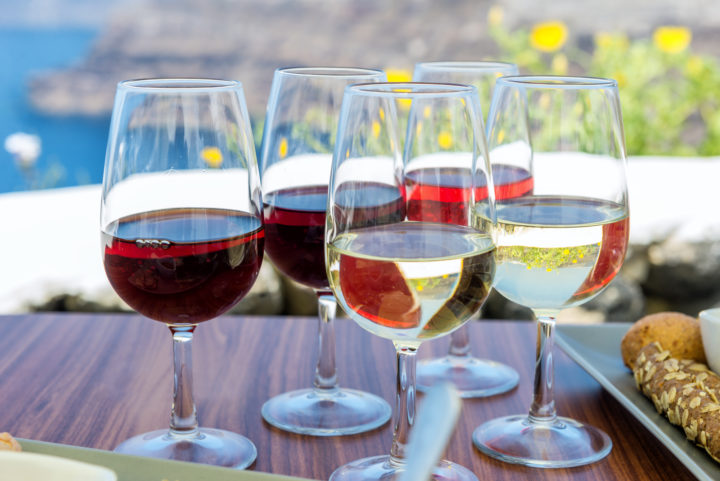 Santorini is a unique island for wineries. The soil here has unique properties because of the volcanic activity. Many o the wines produced on the island are enjoyed as table wines, but there are some wineries here that produce wines for people all over the world to enjoy. Gaia Winery is one of these places and if you're on the island, you should definitely stop in for a tour and a tasting! Here's more information:
About Gaia Winery
Founded in 1994 by Yiannis Paraskevopoulos and Leon Karatsalos, Gaia Wines aims to produce products for wine lovers all over the world. They strive to produce high-quality and competitive wines. In 1994, Gaia Wines released 9,600 bottles of Thalassitis, a Santorini P.D.O white wine. In 1996, Notios white wine was released, followed by Notios red in the same year. In 1997, a private vineyard in Nemea was established along with a new winery. Today, Gaia Winery has 17 labels and has won 150 national awards.
Visit the Gaia Winery in Santorini
The Gaia Wines winery in Santorini is open to visitors from May to October. The winery is located on the eastern side of the island between Monolithos and Kamari. The building where the winery is housed used to be where sun-dried tomatoes were produced. The building was redeveloped and turned into a modern winery. When you visit the winery in Santorini, you will be treated to a tour of the winemaking areas and samples of all the wines from both locations of Gaia Wines.
The Wines of Gaia Winery
The Santorini location of Gaia Wines produces Thalassitis, Thalassitis Oak Fermented, Assyrtiko by Gaia Wild Ferment, Vinsanto.
Thalassitis Wine
Thalassitis wine is produced from Santorini's indigenous white grape variety, Assyrtiko. This wine has high acidity and the aroma of honey and fruits.
Thalassitis Oak Fermented
Thalassitis Oak Fermented wine is made from Santorini's Assyrtiko grape and aged in oak that comes from the Nevers forest from France. There is also one that is ages in acacia barrels that come from Southern France. Thalassitis Oak Fermented wine has the aroma of vanilla, acacia fower, incense, and wood.
Assyrtiko Gaia Wild Ferment
The Assyrtiko Gaia Wild Ferment wine is fermented in French and American oak barrels and also acacia barrels. Each barrel produces a different character. Though Assyrtiko is a white wine, it acts like a red wine.
Vinsanto
Vinsanto by Gaia is produced from grapes that are dried in the sun for ten days and then are exhaustively pressed for hours to get every last drop of the highly concentrated must. The must is then placed in oak barrels. The wine will take on a deep honey color, the aroma of figs and apricots, and the taste of coffee, bergamot, and fig. This sweet wine is balanced nicely with its acidity.
Aged Vinegar From Santorini
Gaia Winery also produces a rare vinegar called Aged Vinegar From Santorini. This vinegar is related to the production of Thalassitis wine.
Getting to the Gaia Winery Locations
To visit the Santorini location of Gaia Winery, you must first get to the island. Santorini has an airport, which makes it easy to get to from wherever you might be traveling from. Once on the island of Santorini, you will find Gaia Winery not far from the airport. It is located at Vrachies in Exo Gonia.
A visit to Gaia Winery in Santorini will add nicely to your visit to the island.
Source:
PLEASE NOTE: The Greek travel section at GreekBoston.com are not paid reviews. Our unbiased and informative travel articles are designed review the popular cities, islands and places in Greece. We are not always able to exactly match the photos to the destinations, but we do try to get close. However, we are not looking for photo submissions at this time. If you find something in a Greek travel article that is not accurate based on your personal experience, please send us an email to greekboston@worldwidegreeks.com and we will consider your suggestions. Thanks for reading the travel section at GreekBoston.com!
Categorized in: About Santorini, Greece, Greek Travel Guide
This post was written by Greek Boston
Share this Greek Travel Article: