Top Villages to Visit on Santorini
Written by Greek Boston in About Imerovigli, Greece, About Santorini, Greece, Greek Travel Guide Comments Off on Top Villages to Visit on Santorini
Santorini is a picturesque Greek island that looks just as beautiful in person as it does in the photographs. Not only that, but it is an island that seems to be cut from another time. Perhaps the island really did house the Lost City of Atlantis. Whether that's true or not doesn't seem to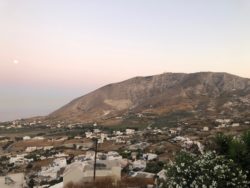 matter while you're here, the island has a charm all its own. Nowhere is this idea more true than in its villages, and each village offers visitors a unique experience. Here's an overview of some of the best villages to spend your time while on Santorini:
Oia
The village of Oia is perhaps one of the more well known places on the island, especially since many of the legendary sunset photos that were taken on the island were snapped while standing in the village overlooking the caldera. However, there is a lot more to the place than that. The village is perfect for meandering and has plenty of boutiques, restaurants, and cafes to pass the time. This is a place where artists flock with the promise of being able to paint a gorgeous interpretation of the scenery or where photographers set up their tripod in search of that perfect moment when the sunset casts a golden glow over the whitewashed buildings.
Pyrgos
One of the thing that sets Pyrgos apart from the rest of the villages on the island is its understated elegance. Perched on top of a hill, this charming place maintains its traditional feel. If you're looking for a quiet place to enjoy a simple Greek way of life, this is where you should flock. Spend your days relaxing in a cafe or wandering the perfectly cobblestoned streets as you imagine what life was like in Greece 100 years ago. It's easy to lose track of time here, as well, since the Greek mentality is one of relaxation and contentment.
Imerovigli
When people arrive on Santorini, they typically start their travels in Fira, the island's largest city. Once they decide to venture out, many head to Oia, since they are lured by the promise of a great sunset. Somewhere in the middle of the two places lies Imerovigli – but just because many gloss over it, doesn't mean that it should be ignored. In fact, it is one of the most beautiful villages on the island. All you have to do is stop and give it a chance. Spend some time wandering along the edge of the cliffs, where there are plenty of shops and cafes to hold anyone's interest.
Finikia
If you decide to spend some time in Oia, you don't want to miss the chance to visit Finikia. It's an easy drive from the more popular village. In fact, Finikia is only a two-minute drive from Oia. It's nestled inside a gorge and while many of the villages on Santorini were harmed by a major earthquake in the 1950's, Finikia remained undamaged. It still has its original charm.
While on Santorini, you won't want to miss the chance to visit these top villages!
PLEASE NOTE: The Greek travel section at GreekBoston.com are not paid reviews. Our unbiased and informative travel articles are designed review the popular cities, islands and places in Greece. We are not always able to exactly match the photos to the destinations, but we do try to get close. However, we are not looking for photo submissions at this time. If you find something in a Greek travel article that is not accurate based on your personal experience, please send us an email to greekboston@worldwidegreeks.com and we will consider your suggestions. Thanks for reading the travel section at GreekBoston.com!
Categorized in: About Imerovigli, Greece, About Santorini, Greece, Greek Travel Guide
This post was written by Greek Boston
Share this Greek Travel Article: