Enjoy the Open Air Cinema of Kamari on Santorini
Written by Greek Boston in About Santorini, Greece, Greek Travel Guide Comments Off on Enjoy the Open Air Cinema of Kamari on Santorini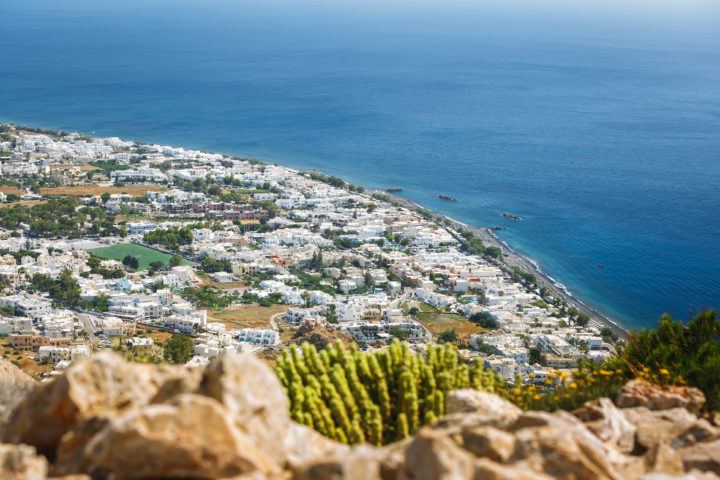 There is nothing quite like watching a movie in an open air cinema, especially if this cinema happens to be on one of the most beautiful islands in the world. Santorini is especially beautiful, and it has a rich history. There is so much to do here that it can be hard to choose. Why not consider visiting the open air cinema located in Kamari? Here's more information:
Where is the Open Air Cinema?
Santorini's open air cinema is located in the village of Kamari, and it is not far from a number of wonderful restaurants, such as Nichteri. The theater's doors open at 8:50, but people typically line up outside well before this so that they can get the best seats. For this reason, it is recommended that you make reservations. As a bonus, those who make reservations get to enter the theater a few minutes before everyone else. It is also recommended that you bring a sweater, as it can get chilly later in the evening.
What Can You Expect When You Get There?
When you walk into the theater, the first thing you will notice is the scent of incense burning. You will also notice that there are about 100 seats to choose from, including some lounge chairs up front. Keep in mind that you are not in America and that people will likely be smoking during the movie. If this bothers you, you want to sit on the left-hand side of the theater, as this is the non-smoking section.
Like in American cinemas, you can buy refreshments. While the cinema serves typical American theater snacks, such as popcorn, hot dogs and soda, it is also has a full bar. This means that you drink beer while watching the film as well as partake in some of the country's terrific wines. They further serve cocktails, too.
What Happens After You Take Your Seats?
At this theater, the fun begins even before the movie starts. Not only do they play cool jazz over the speakers, but it also not unusual to see cats meander through the aisles.
Right before the film begins, you will hear loud bells. Take this a signal to shut off your phones. The theater will also turn off the music and start playing the movie. Because the theater is outdoors, it is not uncommon to hear things such as vehicle engines. Just accept that this is part of the experience.
Unlike movie theaters in the United States, the open air cinema has an intermission. This is perfect time to either go to the bathroom or refill your drinks. You can even do both. What's more, because the theater offers free and high-quality WiFi, you can also use this time to check your email and/or social media.
In conclusion, no trip to Santorini is complete without visiting the open air cinema in Kamari. It is an experience so unlike any you can have at home, and it can be the perfect ending to the perfect day on the island.
PLEASE NOTE: The Greek travel section at GreekBoston.com are not paid reviews. Our unbiased and informative travel articles are designed review the popular cities, islands and places in Greece. We are not always able to exactly match the photos to the destinations, but we do try to get close. However, we are not looking for photo submissions at this time. If you find something in a Greek travel article that is not accurate based on your personal experience, please send us an email to greekboston@worldwidegreeks.com and we will consider your suggestions. Thanks for reading the travel section at GreekBoston.com!
Categorized in: About Santorini, Greece, Greek Travel Guide
This post was written by Greek Boston
Share this Greek Travel Article: