Monasteries to Explore in Sifnos, Greece
Written by GreekBoston.com in About Sifnos, Greece, Greek Travel Guide Comments Off on Monasteries to Explore in Sifnos, Greece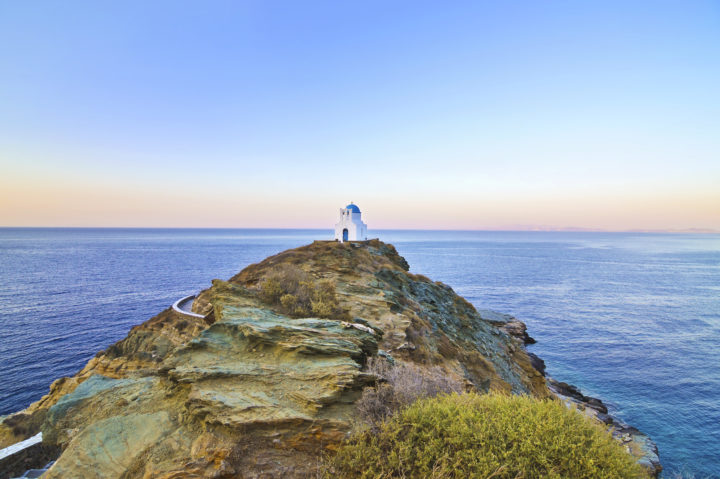 Sifnos, Greece is considered the most authentic island of the Cyclades. The island of Sifnos embodies everything the Cyclades are known for. Findings have shown that Sifnos has been inhabited since Neolithic times. Needless to say, the island is full of history. Explore some of this amazing history at the monasteries of Sifnos, Greece.
Monastery of Panagia Vryssiani
Located just outside the village of Exambela is the Monastery of Panagia Vryssiani. The monastery is painted white and blue and was constructed with the traditional Cycladic architecture. The Monastery of Panagia Vryssiani is home to a small ecclesiastical museum that showcases gospels, holy vessels, vestaments of priests, and manuscripts with Holy Masses. You can also view the embroidered coat of Kassiani at the ecclesiastical museum.
Monastery of Chrissopigi
The Monastery of Chrissopigi is found in a beautiful and unique location on a rock on the sea. This spot is one of the most well-known of Sifnos island. The Monastery was built in the 16th century on the site of an older church. Local tradition says that during the medieval times, nuns lived at the monastery. There was an invasion from pirates and the nuns ran to escape. One nun wasn't able to get away and the pirates chased her. The nun prayed to Virgin Mary to save her and the rock the monastery sits on was cut in two and the pirates fell into the sea.
Monastery of Prophet Elias Apsilou
The Monastery of Prophet Elias Apsilou (also known as Profiti Ilias Monastery) is located on the highest mountain of Sifnos. The monastery and its main church are surrounded by walls. The Monastery of Prophet Elias Apsilou also consists of underground galleries, cells for monks, and basement rooms. The location of this monastery is the perfect place to view the island of Sifnos, the sea, and surrounding islands. If you enjoy hiking, you'll likely enjoy the hike up to this monastery. The view will be worth it. You cam follow a trail from Apollonia that goes to the Monastery of Prophet Elias Apsilou.
Monastery of Panagia Vounou
The Monastery of Panagia Vounou, which means Virgin Mary of the Mountains, is located on top of a hill above Platis Gialos. The monastery was constructed in 1813. The monastery is triple-hypostases, dedicated to the Presentation of the Virgin Mary, Agii Konstantinos and Eleni, and Agios Nikolaos. There are many donations at the monastery that are donations from the Sifnians from Constantinople. On the site of the monastery there are marble columns and other parts from an older temple. You can get to the Monastery of Panagia Vounou via the road that comes from Apollonia going toward Platis Gialos. You will see signposts on the right side of the road.
The island of Sifnos is home to some beautiful monasteries that you won't want to miss. They are full of history and the views that many of them offer make them worth a visit.
Categorized in: About Sifnos, Greece, Greek Travel Guide
This post was written by GreekBoston.com
Like this article? Please share below: