Guide to Santorini on a Budget
Written by Greek Boston in About Santorini, Greece, Greek Travel Guide Comments Off on Guide to Santorini on a Budget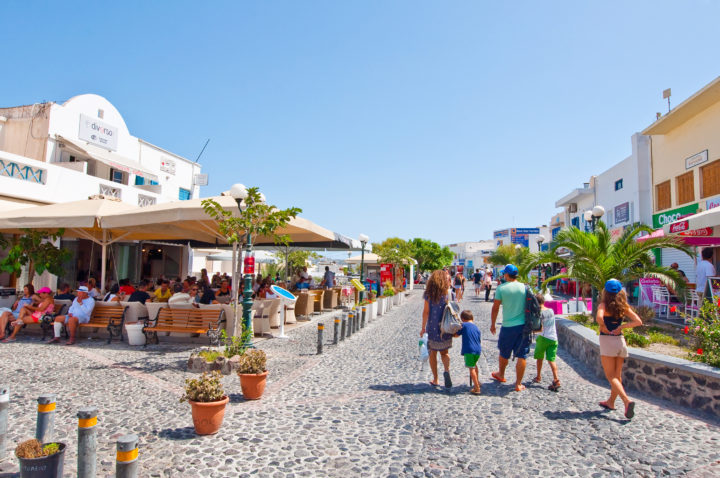 Visiting Santorini is a dream come true for most people. You can have a great vacation to Santorini on a budget. Before you book a flight or a cruise to Santorini, you will want to explore all your options. There are certain days of the week that are cheaper to fly than others. Take advantage of this to save money. If you don't mind traveling to Santorini during off-peak seasons, this is another way to save a bit of money. Here's how to save some money while on you trip:
Where to Stay
Your first choice might be to stay in a hotel with all the amenities, but you can stay in an equally nice place for less if you consider a hostel or an Air BNB. Remember that you won't be inside most of the time, so as long as it's clean and allows you to relax when you're not out and about, it will work. Choose a place that is close to most of the things you want to see and you'll cut down on your travel costs as well.
What to See
Now that you're in Santorini, you'll want to see the sights. If you're the adventurous type, Santorini has plenty to offer that won't cost you much, if anything at all. For example, you can hike from Fira to Oia. Relish in the amazing views that changes along the way, making for great photo opportunities. You can also go cliff diving at Amoudi Bay. If relaxation is more your style, you'll enjoy the numerous beaches Santorini has to offer as well as landmarks such as churches, lighthouses, and the three bells of Fira. Pre-planning before you visit is the best way to know you're going to do and ensure you stick to your budget. Getting around doesn't have to be expensive either. You can take the public bus to get to most of the popular spots.
Eating On a Budget
You don't want to eat in restaurants for all your meals if you're trying to save money. While many aren't incredibly expensive, you can eat Greek street food, which is not only delicious, but affordable too. It's also perfect for when you're on the go. You won't be missing out on any of the flavours of Greek food by choosing this route as you'll have access to souvlaki, gyros, spanakopita, tiropita, and so much more.
Souvenir Ideas
You'll want to take home souvenirs to remember your vacation by, but you should focus on spending any budgeted money on authentic items instead of ones you can find in any corner of the world. If you really want to take home a t-shirt or mug, hit a discount store, which will offer them at a fraction of the price. Other ideas include restaurant napkins, matchbooks, brochures, and maps. Food and spice items are also a good idea for souvenirs. You'll have a taste of Santorini when you get back home. Just be sure you know what you're allowed to transport home.
Visiting Santorini and experiencing all is has to offer can be done on a budget. Pre-planning is the best way to make this happen.
PLEASE NOTE: The Greek travel section at GreekBoston.com are not paid reviews. Our unbiased and informative travel articles are designed review the popular cities, islands and places in Greece. We are not always able to exactly match the photos to the destinations, but we do try to get close. However, we are not looking for photo submissions at this time. If you find something in a Greek travel article that is not accurate based on your personal experience, please send us an email to greekboston@worldwidegreeks.com and we will consider your suggestions. Thanks for reading the travel section at GreekBoston.com!
Categorized in: About Santorini, Greece, Greek Travel Guide
This post was written by Greek Boston
Share this Greek Travel Article: