Take a Boat Trip to the Volcano Hot Springs on Santorini
Written by GreekBoston.com in About Santorini, Greece, Greek Travel Guide Comments Off on Take a Boat Trip to the Volcano Hot Springs on Santorini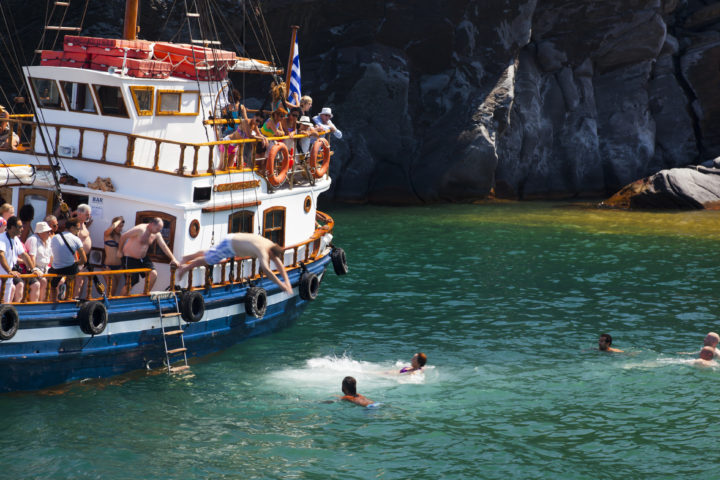 Santorini is one of those islands that people flock to year after year, especially during peak travel season. They come here for various reasons, and one of them is to take in the enchanting scenery. The island has a unique appearance, largely because of the volcanic activity the island has endured for thousands of years.
Some even believe that the mythical kingdom of Atlantis was based, at least in part, on true events that occurred on Santorini. Today, the island looks incomplete since the center of the island was blown apart by a massive volcanic eruption.
Today, the volcano that caused such a cataclysmic eruption lies dormant, but its impact still remains. You can witness this first hand while visiting the island by visiting the Volcanic hot springs. Here's more information about how to do that:
About the Hot Springs
Glancing at a birds-eye view of Santorini makes the unique geography of the island look even more obvious. The island appears to be incomplete, with a giant hole in a place where the eye expects land. At the bottom of this hole, or caldera, lies an ominous volcano. This is the same volcano that was responsible for a massive eruption in ancient times, referred to as the Minoan Eruption, whose impact was felt on a global scale.
Just off the coast of Santorini lies two small islands made of black sand – a clear indicator of volcanic activity. Here, the impact of the volcano can also be felt beneath the surface since the heat from the volcano itself warms the water, creating a thermal bath. These thermal waters have been delighting visitors for centuries.
Consider Taking a Boat Trip to the Hot Springs
Today, visitors to the island of Santorini can take a boat trip from the island to Nea Kameni or Palea Kameni, two small islands that have thermal waters near them. Nea Kamenia, however, is the more popular choice. The waters near this island are not only warm, but they also have a yellow tint to it, an indicator of the water's sulfur content. Sulfur is a desirable mineral in thermal springs because it is said to promote healing.
Boats typically take you from Santorini to the area where the waters are. They stop the boat and let you get off to swim around. When you do take these boat tours you'll definitely want to be wearing your swimsuit! There are also some great views of Santorini and the surrounding area, so you'll also want to be sure to bring your camera.
While on Santorini, you may notice that there is no shortage of things to do. While you can easily spend your days at the beach, watching the sunset, and eating some of the delicious food that can be found on the island, you may be searching for something a little more unique. Taking a boat trip to the volcanic hot springs is something that should be at the top of your list!
Source:
Categorized in: About Santorini, Greece, Greek Travel Guide
This post was written by GreekBoston.com
Like this article? Please share below: