Spend Time at the Symposiun on Santorini
Written by Greek Boston in About Santorini, Greece, Greek Travel Guide Comments Off on Spend Time at the Symposiun on Santorini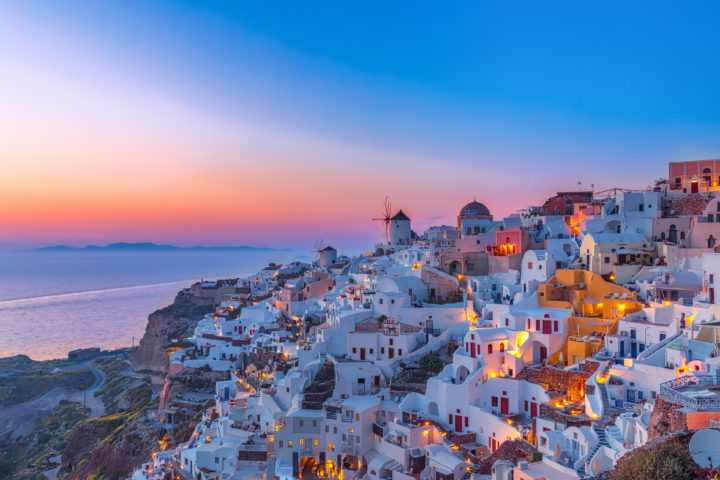 The Greek island of Santorini is an enchanting place. Known for its beauty, history, delicious food, and culture, visitors flock here each year to enjoy it. It's even been theorized that a portion of the island that was destroyed during an ancient volcanic eruption was the last city of Atlantis! One of the things you can do here is visit the Symposium, which is a program that has been influenced by Greek mythology.
Here's more information about the Symposiun on Santorini:
About the Symposiun on Santorini
In 2012, La Panto, a Greek Bagpipe Exhibition and Workshop was created by Yannis Pantazis and Argy Kakissis. This exhibition was located in the Venetian Castle of Akrotiri. In 2018, La Ponta expanded and would be relocated to a former winery in Megalochori. With this change would come a new chapter as Symposiun by La Ponta.
Symposiun is a program that is influenced by Greek mythology. It is inspired by the nine Muses. This came to be when they entered their new premises at the old winery and saw the nine holes suspended above the main entrance. This was their sign that their vision for the Symposiun would be guided by the muses. Since the Symposiun has begun, it has been covered by ET3 of Greece, OTE History of Greece, BBC Scotland, Songlines Magazine, VIV2 of Vietnam, and RAI 3 of Italy just to name a few.
Yannis Pantazis and Argy Kakissis also have a wine café called the Homeric Wine Cafe + Botanical Garden that is located in a corner of the village of Megalochori. The theme of the botanical garden is mythology. They offer traditional Greek teas, soft drinks, and a range of Homeric and local beers and wines. Every now and then, guests are treated to a live performance by Yannis.
Visit the Symposiun on Santorini
When you visit the Symposiun on Santorini, you will easily be kept occupied and entertained for hours. There is an exhibit to showcase the Greek bagpipe called a tsabouna. The tsabouna has been used for centuries in the traditional music of the Aegean Islands. It is used for folk dances that are individual to each island and local songs. The tsabouna is made completely of natural materials with as little processing as possible.
When visiting the Symposiun in Santorini, you will learn all about the history, use of, and construction of the tsabouna. Yannis Pantazis hosts a artisan's workshop where he offers an immersive experience of music and mythology to visitors. He also leads instrument-making workshops for both children and adults. Yannis also leads daily presentations and evening performances to introduce visitors to the Greek sound world.
You can shop at the symposiun on Santorini, which a wonderful and unique experience. In addition to CDs and tote bags, you can buy instruments that are handmade by Yannis Pantazis. These instruments include: the tsabouna, syrinx, double syrinx, double reed pipe-diaulos, river flute, and Cycladic drum.
Getting to the Symposiun on Santorini
Getting to Santorini can be done by plane or by ferry. There are daily ferries from Athens to Santorini and ferries that connect to Santorini from other islands. The airport of Santorini receives domestic flights as well as charter flights and direct flights from abroad during the summer.
The Symposiun of Santorini is located in Megalochori Village and admission is free. You'll want to visit it when you're on the island!
PLEASE NOTE: The Greek travel section at GreekBoston.com are not paid reviews. Our unbiased and informative travel articles are designed review the popular cities, islands and places in Greece. We are not always able to exactly match the photos to the destinations, but we do try to get close. However, we are not looking for photo submissions at this time. If you find something in a Greek travel article that is not accurate based on your personal experience, please send us an email to greekboston@worldwidegreeks.com and we will consider your suggestions. Thanks for reading the travel section at GreekBoston.com!
Categorized in: About Santorini, Greece, Greek Travel Guide
This post was written by Greek Boston
Share this Greek Travel Article: