Visit the Black Sand Beach at Perissa Santorini
Written by GreekBoston.com in About Santorini, Greece, Greek Travel Guide Comments Off on Visit the Black Sand Beach at Perissa Santorini
Much of the island of Santorini is located on the rim of the volcano, but there are still plenty of opportunities to visit the beach. In fact, the beaches that are located here are amongst the most unique in all of Greece! By gazing at the various beaches, it's clear that there was a history of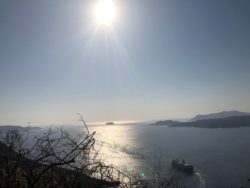 volcanic activity here, and nowhere is this more obvious at Santorini's Perissa's Beach.
Here's some information about what is arguably Santorini's most popular beach:
What Makes Perissa Beach Worth Visiting?
Perisaa Beach is located at the village of Perissa in the island of Santorini. There are a few things that make Perissa Beach worth spending time at. First of all, the volcanic activity on the island is evidenced at this beach in the form of its unique, black sand. Over the centuries, the molten rock from various volcanic eruptions hardened and then eventually broke down due to erosion. Today, beachgoers can lounge in the warm sand, rent a sun chair, and in general enjoy the beauty that the unique color of this sand creates.
What to Do While on Perissa Beach
Perissa Beach is a great beach to lounge in the sun, swim in the water, and to also do activities such as snorkeling or scuba diving. When you arrive at the beach, you'll want to make sure that you rent a sun bed and an umbrella. The black sand absorbs the heat, which means that you'll need to wear your sandals while walking on it. It also might mean that it will be uncomfortable to sit directly on the sand, so you'll either need to lay down a towel or blanket or sit down on a sun chair. However, the sun bed is the preferred choice. You'll want an umbrella not only because of the direct sunlight, but also because of the wind. You'll need protection from both of these elements.
Stay in a Resort in Perissa to Better Enjoy the Beach
Do you know that Perissa is one of those beaches that you'll want to enjoy more than once? Instead of staying in a place like Fira or Oia while on Santorini, consider staying in a resort or a hotel near Perissa Beach so that you can spend as much time here as possible! Hotels and resorts to consider include the Smargadi Hotel, Stelios Place, and the Anastasia Princess Hotel. If you prefer to stay in a villa, consider the Aretousa Villas. All of these places are an easy distance to the beach, so you can enjoy this black sand beach during your whole stay.
Although there are plenty of things to do on Santorini, lounging at Perissa Beach will be one of the highlights. Once you're done soaking up the sun, consider taking in the nightlife on the island, enjoying the sunset, and eating a great traditional meal at one of the many restaurants and tavernas that are nearby.
Categorized in: About Santorini, Greece, Greek Travel Guide
This post was written by GreekBoston.com
Like this article? Please share below: