Spend Time at the Minoan Historical Sites on Santorini
Written by Greek Boston in About Santorini, Greece, Greek Travel Guide Comments Off on Spend Time at the Minoan Historical Sites on Santorini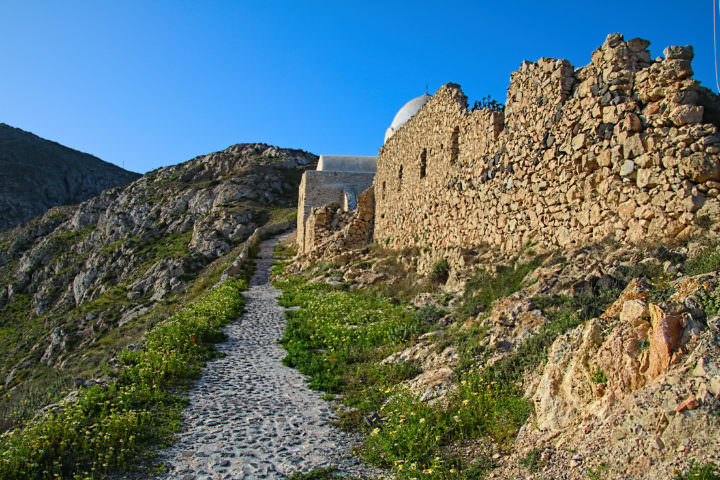 Santorini isn't necessarily known as the center of the Minoan Civilization the way that Crete is, but it is clear that this island did play a role during this time period. Sure, Crete is considered to be at the hub of the Minoan culture, but there is evidence that there were Minoan-era colonies elsewhere in Greece, and this includes Santorini. Not only that, but the volcanic eruption that took place here impacted the Minoans so strongly that it theorized that this is one of the reasons why the civilization eventually collapsed. Here's a look at where to go on Santorini to learn about the role this island played during the Minoan time period:
Akrotiri
The hub of Minoan activity on the island is considered to be at the ancient archaeological site of Akrotiri. This ancient city is considered to be a Minoan colony and offers proof that there was a Minoan presence outside of Crete. Although there has been evidence elsewhere in the world of the Minoan culture, such as in Egypt, it is largely held that this is because of trade. At Akrotiri, however, this isn't the case. The city is structured in a similar way as some of the Minoan sites that can be found throughout Crete. In fact, archaeologists have been able to study Akrotiri in great detail because the ruins are well preserved since they were covered in volcanic ash after the cataclysmic eruption of Thera, the ancient volcano. Visiting this site is absolutely worth your time while on Santorini. Consider taking a guided tour while here.
Museum of Prehistoric Thera
The Museum of Prehistoric Thera is actually located in modern-day Thera. This is one of those places you won't want to miss if you want to catch a glimpse of artifacts found at both the Akrotiri and Thera dig sites. Since it features a sizable number of pieces from Akrotiri, this is also a great place to learn a bit about the Minoan Civilization and the role that this island played in it. You can certainly learn a lot by reading the plaques at the museum, but you will get more out of it if you're able to take a tour.
Volcano and Hot Springs
The volcano at Santorini has been dormant for some time. However, since it isn't considered to be extinct, there is a threat it could erupt again some day. While this isn't predicted to happen anytime soon, it is important to understand that the eruption that occurred during Minoan times was strong enough to blow a hole through the island and is also thought to have been one of the reasons why the civilization collapsed. Even if you're not interested in the history of this time period, you should still visit the volcano simply because it is a beautiful place. You can also enjoy the hot springs while here.
While on the island of Santorini, you should consider taking some time to learn about its role during the time of the Minoan Civilization.
PLEASE NOTE: The Greek travel section at GreekBoston.com are not paid reviews. Our unbiased and informative travel articles are designed review the popular cities, islands and places in Greece. We are not always able to exactly match the photos to the destinations, but we do try to get close. However, we are not looking for photo submissions at this time. If you find something in a Greek travel article that is not accurate based on your personal experience, please send us an email to greekboston@worldwidegreeks.com and we will consider your suggestions. Thanks for reading the travel section at GreekBoston.com!
Categorized in: About Santorini, Greece, Greek Travel Guide
This post was written by Greek Boston
Share this Greek Travel Article: