What to Know About Santorini's White Beach
Written by Greek Boston in About Santorini, Greece, Greek Travel Guide Comments Off on What to Know About Santorini's White Beach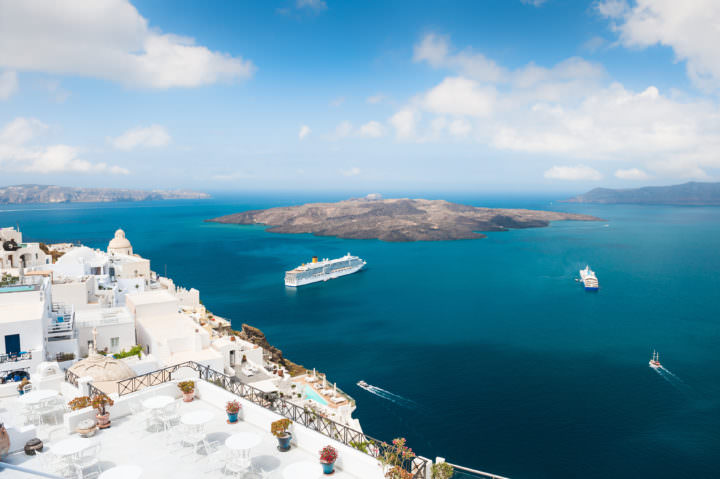 Santorini is one of the most popular travel destinations in all of Greece. People flock here from all over the world in search of capturing some of the magic the island has to offer, and the beaches are one of them. Although there aren't many beaches on the island because of its geography, but those that do exist are stunning. White Beach, one of the beaches near Akrotiri, is one of those places. Here's more information about what to know about spending time at this beach:
Getting to White Beach
Before you can spend time at this beach, you need to first make your way to Santorini. You can do this either by ferry or by plane. Once you get to the island, you'll need to take Located on the southern tip of Santorini, getting to this island will require a ferry. You can take a ferry from the mainland and get there in 5 hours. Or you can grab a flight from Athens and land in 30 to 45 minutes. In order to get to White Beach, you will need to take a boat.You can park at the lot near Red Beach (the neighboring cove) and take a water taxi that will drop you off at White Beach for a small fee. Unless you are an experienced rock climber, there is no other way to get there.
About White Beach
White Beach, like most beaches on Santorini, is a stretch of black pebbles enclosed by giant cliffs made up of beautiful white and pastel colors. The waters here are especially clear. Unlike the white sandy beaches on some islands that have dusty waters from residue, these pebble beaches have crystal clear waters. Due to it's secluded location, this is a fairly quiet beach with less people than the more popular Red Beach nearby. Sometimes you may be the only person on the beach. The bright white rock formations and blue waters make it one of the most beautiful beaches on Santorini.
What to Do at White Beach
Most people here can be found sunbathing, strolling along the cove, swimming, or snorkeling. The very clear waters in this area make snorkeling a great activity. You'll easily spend hours looking at the underwater life on this beach. No facilities are found here. If you need to use the bathroom, you'll have to do it the old fashioned way. There are no snack bars or vending machines on the White Beach either. Be sure to come prepared with some food and water bottles if you want to spend a longer day in this spot.
Some umbrellas and sunbeds are sprinkled on the beach for those wanting to lounge. Snagging one is a good idea since the larger pebbles make lounging on a beach towel somewhat uncomfortable. The pebbles are small enough that walking on them barefoot is not a problem. However, if it is a hot day, the pebbles can get toasty and shoes are recommended.
Out of all the beaches in this area of Santorini, this is a perfect spot for those travelers who desire a beautiful beach with a secluded location. Since it faces west, you will catch a sunset if you plan accordingly.
PLEASE NOTE: The Greek travel section at GreekBoston.com are not paid reviews. Our unbiased and informative travel articles are designed review the popular cities, islands and places in Greece. We are not always able to exactly match the photos to the destinations, but we do try to get close. However, we are not looking for photo submissions at this time. If you find something in a Greek travel article that is not accurate based on your personal experience, please send us an email to greekboston@worldwidegreeks.com and we will consider your suggestions. Thanks for reading the travel section at GreekBoston.com!
Categorized in: About Santorini, Greece, Greek Travel Guide
This post was written by Greek Boston
Share this Greek Travel Article: