Stop in On the Venetian Bridge in Zakynthos
Written by GreekBoston.com in About Zakynthos, Greece, Greek Travel Guide Comments Off on Stop in On the Venetian Bridge in Zakynthos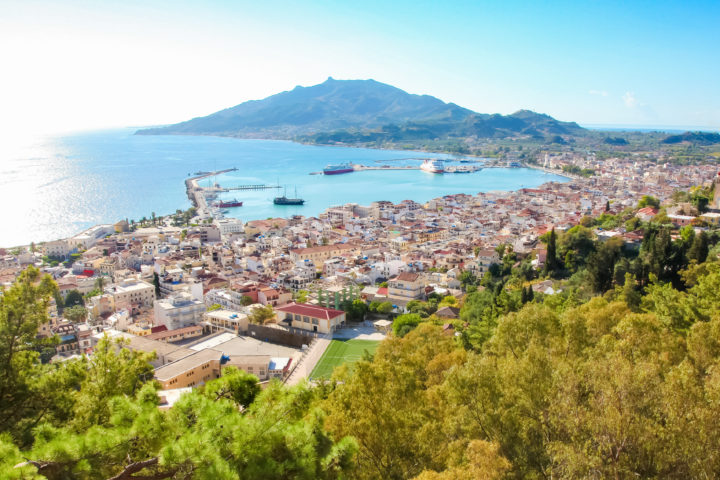 Zakynthos, Greece is an island that is hard to ignore. It is home to beauty that includes crystalline waters, the pine-covered mountains, the caves, and captivating sunsets. Zakynthos also boasts history in the form of shipwrecks, castles and fortresses, monasteries, and monuments. A special piece of Zakynthos that you should explore is the Venetian Bridge.
About the Venetian Bridge in Zakynthos
The now ruined Venetian Bridge in Zakynthos, Greece is located in the small harbor of Argassi, just 10 meters from the seashore. It stands today, half in the sea and hand on the sand. The bridge has three arches, each of which is 13 meters long. The bridge is made of tufa. Tufa is a type of limestone that is formed through natural springs. It contains a lot of holes, and nooks and crannies. The construction of the bridge can be compared to that of a Venetian watchtower. Also known as Argassi Bridge, it was built in 1805, according to the plaque that is found above the center arch. The bridge is slowly being eroded away by the sea.
What to Do at the Venetian Bridge
The Venetian Bridge is a fascinating piece of history to see. It also makes a wonderful place to take photographs. Imagine the changing colors behind it as the sun sets. If you're a photographer or just love taking creative photographs of your family, this is the ideal spot. Walk along what's left of the bridge and explore each arch.
The Venetian Bridge is found at Argassi Beach, which is just 5 km from the capital of Zakynthos. Argassi Zante beach is long with golden sand. The beach also has water sports facilities. Paragliding, sea-skiing, and sea-biking can all be done at Argassi Beach. There are showers, umbrellas, and sun beds available at the beach. Taverns, shops, and bars can all be found in the area.
While you're in Argassi, you might want to see the Monastery of Panagia Skopiotissa. This is the oldest monastery on the island. It was built during the first half of the 15th century in the shape of a cross. The road to get to the monastery isn't the smoothest, but it's worth the trip to see it and the view. The monastery was built on the site of a temple of Armetis. Inside the monastery there are paintings of saints and an icon of Panagia Skopiotissa.
If you are travelling from Zakynthos Town to Argassi, you can rent a car, bike, or bicycle. You can also take a take if you prefer, but if you rent a car, you can sightsee at your own pace and it won't cost as much in the long run.
If you are visiting the island of Zakynthos, you will want to check out the Venetian Bridge in Argassi. It might not look like much to see, but it is a fascinating piece of history.
Categorized in: About Zakynthos, Greece, Greek Travel Guide
This post was written by GreekBoston.com
Like this article? Please share below: