What to Know About Scuba Diving in Santorini
Written by Greek Boston in About Santorini, Greece, Greek Travel Guide Comments Off on What to Know About Scuba Diving in Santorini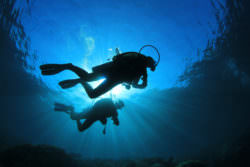 There is no doubt that Santorini is a physically beautiful island. Haunted by the massive volcano that blew a hole in the center of the island thousands of years ago, the scenery here is amongst the most memorable in all of Greece. It is also known as having some of the best sunsets in Greece and people from all over the world flock here to catch a glimpse.
Sure, the island is known for its physical beauty, but there is another world to explore below the surface. In fact, Santorini is one of the top diving locations in all of Greece. Here's more information about scuba diving on Santorini island:
Getting to Santorini
Before you can start diving, you need to first make your way to the island. Santorini is a popular stop for cruise routes through Greece and other places in the Mediterranean Sea. If you are going to be on one of those cruises, you might have enough time to take a scuba diving excursion. If this interests you, ask your cruise line for more information. Other than that, you can get to the island both by ferry and by airplane and it all depends on where you originate from and what kind of experience you want to have. Ferry travel is fairly unique and when you do it, you will notice that it is the preferred way to travel amongst Greeks.
Diving Locations in Santorini
The fact that Santorini has such a volcanic history makes diving here especially memorable. In fact, diving enthusiasts claim that Santorini is just as beautiful below the surface as it is above it. Here's a look at some of the popular diving sites that the island has to offer:
Caldera Lagoon. The underwater caldera lagoon has many diving sites that are worth exploring. For example, the Faros Reef is located in the caldera and this is a great destination for divers of all experience levels.
Kamari. If you happen to love caves, consider heading to the Caves Lagoon that is just off of Kamari Beach.
Nea Kameni. There are two major sites that are worth exploring and can be accessed from Nea Kameni, a small island off the coast of Santorini that has the legendary volcano. From here, you can visit an underwater shipwreck and also Perissa Rock.
Diving has increased in popularity over the past few years and as a result, there are now four established diving centers on the island. Each of them is located at a heavily touristed area, which makes it extra convenient to head here for dives. At these centers you can rent equipment, take lessons, hire guides, and gather information about the logistics about diving here on your own. The diving centers are located in Perissa (there are two here), Kamari, and Pyrgos. Think about where you want to dive and get in contact with the relevant dive center before your trip.
As you can see, Santorini is an incredibly worthwhile destination for divers. Be sure to gather information before you dive here so you can prepared! Even if you are an expert diver, you might even want to hire a guide to show you all the good sites.
PLEASE NOTE: The Greek travel section at GreekBoston.com are not paid reviews. Our unbiased and informative travel articles are designed review the popular cities, islands and places in Greece. We are not always able to exactly match the photos to the destinations, but we do try to get close. However, we are not looking for photo submissions at this time. If you find something in a Greek travel article that is not accurate based on your personal experience, please send us an email to greekboston@worldwidegreeks.com and we will consider your suggestions. Thanks for reading the travel section at GreekBoston.com!
Categorized in: About Santorini, Greece, Greek Travel Guide
This post was written by Greek Boston
Share this Greek Travel Article: