Take in Santorini's History at These Historical Places
Written by Greek Boston in About Santorini, Greece, Greek Travel Guide Comments Off on Take in Santorini's History at These Historical Places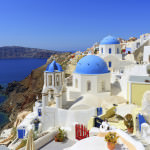 Perched on a rim of a dormant volcano, the island of Santorini juts out of the sea as if created by a myth – and perhaps it was! There are those who believe that Plato's fabled lost city of Atlantis was actually the portion of Santorini that tumbled into the sea after a massive volcanic eruption that took place in ancient times. Although that has been the subject of debate for centuries, there is one fact that does remain. Santorini is an island whose history did originate in Ancient Greece. While visiting Santorini, you can learn about this history at various points in the island. Here are some of the best places to learn about Santorini's past:
Akrotiri Archaeological Site
One of the most amazing things about the Akrotiri Archaeological Site is how much information we truly know about the culture and history of Santorini thousands of years ago. What's truly astounding is that things that we consider to be modern conveniences, such as running hot and cold water from a tap is something that they actually had on the island. Akrotiri gives us a glimpse of what life was like back then. This site is well organized and you can easily take a guided tour. If you want to skip the tour, read up about it beforehand so you can understand what you're looking at during your visit.
Museum of Prehistoric Thera
Many of the artifacts found at archeological sites such as Akrotiri need to be housed someplace safe so that the elements don't cause them any further damage. The Museum of Prehistoric Thera is one such place. Located in Fira, this museum has plenty of artifacts to satisfy your curiosity. This is the place to go if you want to view the artifacts that were found on Akrotiri. In fact, if you want a nice overview of Akrotiri, you can start by visiting this museum before you go to the archeological site.
Wine Museum Koutsoyannopoulos
Wine is an important part of Santorini's history, and you can get a nice overview at the Wine Museum Koutsoyannopoulos. You can take a tour in a variety of languages, including English. The wine on Santorini is amongst some of the best in Greece. This is a great museum to get an overview of the history of wine on the island, which does originate in Ancient Greece.
Byzantine Castle Ruins
If you're more interested in Byzantine history than the history of Ancient Greece, the Byzantine Castle Ruins are the place to be! While not much remains of this 15th Century castle, it is still very much a part of Santorini's past. Time your visit so that you're there during sunset. Many visitors to the island believe that this is one of the best places on the island to watch the sun disappear into the horizon.
While visiting Santorini, taking a look at these historical sites should be part of your visit. Sure, the island is a great place to rest and relax. However, it can enrich your experience considerably by understanding some of its past.
PLEASE NOTE: The Greek travel section at GreekBoston.com are not paid reviews. Our unbiased and informative travel articles are designed review the popular cities, islands and places in Greece. We are not always able to exactly match the photos to the destinations, but we do try to get close. However, we are not looking for photo submissions at this time. If you find something in a Greek travel article that is not accurate based on your personal experience, please send us an email to greekboston@worldwidegreeks.com and we will consider your suggestions. Thanks for reading the travel section at GreekBoston.com!
Categorized in: About Santorini, Greece, Greek Travel Guide
This post was written by Greek Boston
Share this Greek Travel Article: