How to Choose the Wedding DJ
Written by Greek Boston in Greek Wedding Traditions Comments Off on How to Choose the Wedding DJ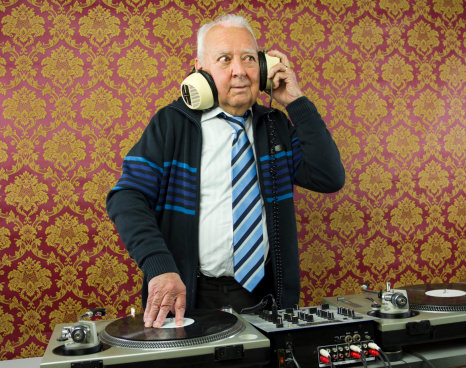 So, your Greek wedding is nearly planned. You've finally decided to have a DJ and not a wedding band. Now, all you need to do is select the right one for your event. How do you choose someone who will do a great job? With such a variety of DJ's who are perfectly capable of handling your wedding, it can be a challenge to narrow it down.
Before you proceed, spend some time thinking about the mood you want to create at your wedding. Think about your guest list and the type of venue. Also, determine how much of a Greek influence you want. This will help you choose the best wedding DJ to meet your needs.
Greek Considerations
If you are having a fairly traditional Greek wedding, you will want a DJ who has a greater understanding of the culture and what is expected. Not only that, but they should have access to the traditional Greek songs you will need, such as Oraia Pou Enai Nifi Mas, where the wedding party traditionally dances the Kalamatiano.
Sure, you can always give them the songs that you want them to play, but it helps if they've at least handled a Greek wedding in the past. If they are also of Greek descent, that will also be something to consider. If they aren't open to acquiring the music themselves, it is best to move on and find someone else.
Stick With a Budget
How much money do you have to spend on a DJ? Various DJ's charge different prices depending on their experience, their equipment, and whether or not they have an assistant. Set a budget and then contact several in your area to see if they fall within it. From there, you can determine if they'll actually be suitable for your wedding.
Get Recommendations
Sometimes, the best option is to get recommendations from other people, especially local Greeks. They may know someone who will do a great job. You may even get a discounted rate. Also, if you attend a wedding or other event and see a DJ who is doing a great job, be sure to grab his contact information. Word of mouth is one of the best ways to insure you get someone who will be perfect for your wedding.
Crowd Interaction
Have you ever been to an event where the DJ just stood there and had no personality at all? You most certainly don't want this to happen to you. Ideally, you'll want to find someone who strikes a balance between playing great music and working the crowd. In other words, it really is best to see the DJ in action before you sign any contracts.
You want your wedding to be perfect and the DJ plays a big part in that. The reception is where people have a chance to relax and let loose after the church ceremony. This is a happy occasion and one that you want to share with your guests. The right DJ will help make this a truly memorable occasion.
Categorized in: Greek Wedding Traditions
This post was written by Greek Boston