About Halki, Greece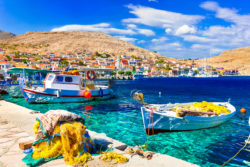 Halki is a small island in the Dodecanese group in the Aegean Sea. The only village on the island is Emborio, which is also the main port. The village is divided into two parts: Chorio (village) and Emporio (market). The village is built around a bay, amphitheatre style, with houses going up the hill. The old capital of the island is Horio, in the center of the island. It is not abandoned. Halki is a mainly mountainous island. The highest peak on the island is Merovigli at 601 meters. Mount Prophet Elias is located in the center of the island and is the spot where the Knights of Saint John built castle during medieval times that still stands today.
The island of Halki has been inhabited since prehistoric times. During ancient years, Halki was an ally of the Athenians. During the 7th century, the island of Halki was conquered by the Arabs. They would hold power until 825. The Venetians and Genovese would arrive in Halki in 1204 and restore the ancient acropolis. They would also build a fortress on top of Alimia Islet. In the 14th century, the Venetians gave the island to the Assanti family from Ischia. They would build a castle at the ruins of the ancient acropolis. In 1523, Halki was conquered by the Turks. The island of Halki would take part in the Greek Revolution in 1821.
The island of Halki would become an important trading center specializing in sponge fishing, along with Symi, Kalymnos, and Kastelorizo. Today, the island's main industry is tourism, but fishing is still important.
There is almost no natural water supply on the island so rainwater is collected in large cisterns and drinking water is brought in from Rhodes. In 2014, a desalination plant was put on the island, so the water boat doesn't need to make a trop every few days.
Administrative Region for Halki Island, Greece
South Aegean
Area of Halki Island, Greece
37.04 km2 (14.30 sq mi)
Population of Halki Island, Greece
478
Top Attractions in Halki Island, Greece
Clock Tower – Located in front of Town Hall. The clock tower is made of stone and can be seen from everywhere in the area. The clock tower has four levels; the clocks are on the third level and the bell housing is above that.
Monastery of Agios Ioannis Alarga – Located in Horio. The monastery sits on a high plateau. There is a courtyard with a large Cypress tree.
Medieval Castle – Built in the 14th century by the Knights of Saint John. The castle is located on a rocky hill above Chorio Village.
Potamos Beach – 500 meters from Halki Town. A small church sits on the cliff above the beach. Potamos beach is organized with umbrellas and sun beds.
Ftenagia Beach – 500 meters from Nimborio. This beach is popular with a few taverns nearby and some umbrellas and sun beds available. The beach is secluded and nudist friendly.
BELOW ARE INTERESTING ARTICLES ABOUT HALKI, GREECE: