About Lipsi, Greece
Lipsi is an island that is part of the Dodecanese group. It is part of a small cluster of islands. The largest and only inhabited island of these small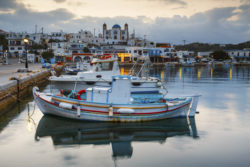 islands is Lipsi. The island of Lipsi is mainly flat. It's highest peak is Skafi at 277 meters. The terrain of this island makes it great for trekking. The coastline of the island has coves and beaches. Many of the beaches are within walking distance of the main town.
The soil on the island of Lipsi is fertile, which plays a role in the island's economy. The island produces wine, honey (thyme honey), cheese, dairy products, and local grapes called mizithra. Other local products include carpets, loom-woven fabrics, and cloth pouches used to strain cheese called "fookadia."
The island was first inhabited during prehistoric times by the tribe of Cares. Excavations have unearthed vessels and inscriptions from ancient times. A fortified town dating from the 4th century BC was also found. Items are housed in a small museum in Lipsi Town.
The island would flourish most during the Hellenistic times. During the 11th century, the island of Lipsi, along with Patmos, would be vested to Osios Christodoulos. Also around this time, many monks from Patmos were arriving at the island of Lipsi to live. Many monasteries would be established including the Monastery of Panagia Harou, which is considered the protector of the island.
The main town of Lipsi was founded by a Cretan man named Elias in 1669. It was around this time, that many Cretans were leaving Crete and residing in the Dodecanese Islands. Lipsi would from this time follow the same history as the rest of the Dodecanese Islands and would unite with Greece in 1948.
Administrative Region of Lipsi Island, Greece
South Aegean
Area of Lipsi Island, Greece
17.35 km2 (6.70 sq mi)
Population of Lipsi Island, Greece
790
Top Attractions of Lipsi Island, Greece
Church of Agios Stathis – Located in Tourkomnima. This is small chapel that can be found between the beaches of Hohlakoura and Tourkomnima.
Ecclesiastical Museum – Located in Town. The Ecclesiastical and Folklore Museum can be found close to the church of Ioannis Theologos. In the same building is a lending library.
Church of Panagia Harou – Located in Hohlakoura. The name is the church means "Virgin Mary of Death" and it was built in 1600. Located on the way to the beach of Hohlakoura.
Kambos Beach – If you're looking for a beach within walking distance of Lipsi Town, Kambos Beach is a good choice. Just 2 km, a 15 minute walk, from Town. The beach is beautiful and sandy.
Hohlakoura Beach – 4 km southeast of Lipsi Town. A secluded beach located beneath the church of Panagia Harou. This beach is surrounded by rock with some green areas.
Lientou Beach – Just 1 km from Lipsi Town and probably the busiest because of its convenient location to tourist facilities. A family friendly and partly organized beach.
BELOW ARE INTERESTING ARTICLES ABOUT LIPSI, GREECE: