Top Greek Orthodox Christening Essentials
Written by Greek Boston in Greek Christening Traditions Comments Off on Top Greek Orthodox Christening Essentials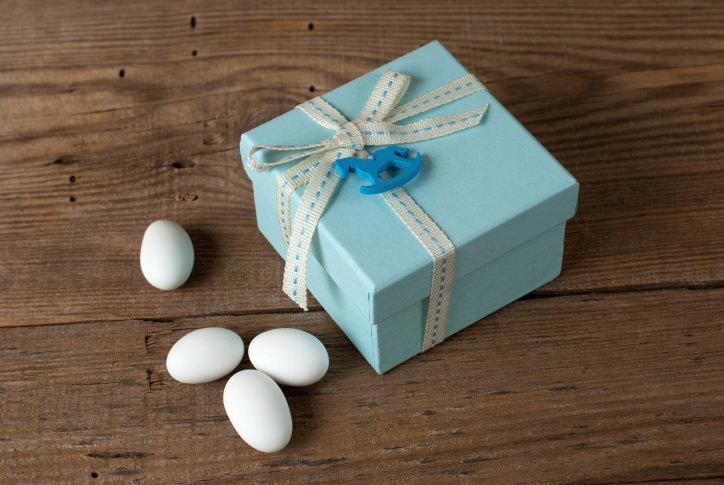 In order for a Greek Orthodox Christening to be executed successfully, there are a few items that need to be purchased. Some of these items, the church requires. The rest aren't necessities but rather important traditions. Either way, most Greek Christenings have them.
Here is a list of the top Christening essentials that are present at the ceremony and reception and simple ways to go about purchasing them. Consult with your priest for clarification.
Greek Christening Boxes
Christening boxes are a simple way to purchase some of the items that the priest needs. They usually contain a bar of soup, a bottle of oil, and a white hand towel. These items are used in the ceremony. Typically, it is the godparent who is responsible for buying these items.
When purchasing these boxes, you can buy a simple design or something a little more elaborate. You can even have them custom made. Once the Christening is over, the boxes can be used as a keepsake box.
The Miropania Set
Another key item for the Greek Orthodox Christening is the Miropania set. These typically contain a large white towel, a white hand towel, the Miropania sheet, and a new , white outfit for the baby girl or boy. The godparent is responsible for purchasing these items for the child.
Of course, all the items can be purchased separately. However, it makes things easier to buy them as a set. You can find these miropania sets online, in catalogs, or in local Greek shops.
Martyrika – Witness Pins
Witness pins are another traditional item present at Greek Christenings. However, note that even though the Martyrika are expected, they don't actually have a place in the ceremony itself.
When you decide to purchase the pins, you'll notice that you have some choices. Some are fairly elaborate and expensive. Others are much simpler and usually consist of a ribbon with a cross in the middle.
It's up to you how much you want to spend. Not only that, but since this is a tradition and not a necessity, you can eliminate it completely if you are on a budget.
Candles for the Christening
The candles that are part of the Christening ceremony are essential items. Each Christening utilizes three candles – one large candle and two smaller ones. These are white and are often decorated with white toile and ribbons.
You can use plain candles, decorate them yourself, or buy them already decorated. Mostly, it will depend on how much you are able to spend. It is typically the responsibility of the godparent to purchase them.
As you can see, these items are either essential or expected. Yes, the church does need certain things for the ceremony such as the candles, towels, soap, and oil. However, the witness pins, for example, are simply traditions and not expected. Not only that, but the items for the ceremony don't need to be elaborate; they can be simple. So, if you need to find a way to save money, you can cut corners by purchasing the bare minimum.
Categorized in: Greek Christening Traditions
This post was written by Greek Boston