Preparing for an Adult Greek Orthodox Baptism
Written by Greek Boston in Greek Christening Traditions Comments Off on Preparing for an Adult Greek Orthodox Baptism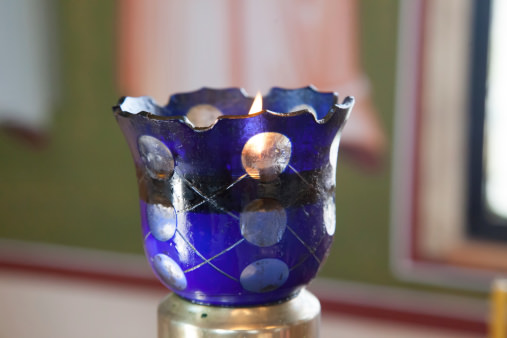 Though we mostly assume that it's only children who get baptized in the Greek Orthodox Church, it is possible for adults to be administered the sacrament as well. Parents choose to have their children baptized from a young age because they want to set their children on the right path in the church early on. It's the first thing thing that needs to happen in their Christian lives before they can participate in the other sacraments.
Here are some guidelines of what to expect for an adult baptism in the Greek Orthodox Church:
Reasons for Getting Baptized as an Adult
So, why would an adult need to get baptized? Sometimes, parents choose not to baptize their child. For example, if they weren't churchgoers when the child was born, they could decide not to have them baptized. As an adult, if they want to be part of the church community, they would need to be baptized. Also, if someone converts into Orthodoxy from another religion, they would also need to be baptized as part of that process.
Choosing Your Godparent
When an infant is baptized, much importance is placed on finding the right godparent for the role of bringing the child up in the Orthodox Church. This is the same for an adult getting baptized, as well. Select someone who is well versed in the ways of the church and can help mentor you as you grow in your relationship with God. If you feel comfortable having that person in your life through your spiritual journey, he or she is the right person for the job.
Expectations of the Godparent
Once you choose your godparent and the church has approved him or her, it helps to know what is expected. From this point onwards, the expectations of your godparent are the same as they would be for a child. They still need to purchase the items that are needed in the ceremony such as the candles, towels, olive oil, soap, clothing, and a gold cross. The godparent will participate in the ceremony as is required of them and from then on, they will assist in your growth as an Orthodox Christian.
Holding a Reception
It isn't required to have a reception after your baptism, but it is always a fun idea. If you do have a reception, keep in mind that you or your godparent will be required to provide your guests with Koufeta (the white, candy covered almonds) as a favor. You have a choice as to whether or not you will have the reception at the church, at a restaurant, someone's house, or a function hall.
Making the decision to become a full, practicing Orthodox Christian is an important one. Getting baptized is a vital part of that decision. If you were never baptized as a child or you decided to convert as an adult, you will need to get baptized as soon as your priest says it's time. You will need to prepare for the ceremony itself by choosing your godparents and becoming spiritually ready. After that, you will be ready to participate in the rest of the sacraments.
Categorized in: Greek Christening Traditions
This post was written by Greek Boston