Greek Orthodox Holy Trinity Church in Portland, ME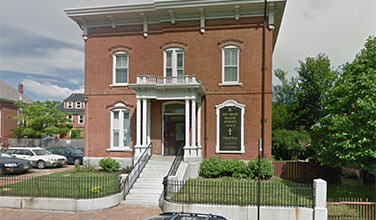 Holy Trinity Church - Contact Information
Holy Trinity Church
133 Pleasant Street
Portland, ME 04101
Rev. Fr. Konstantinos Sarantidis
Phone: (207) 774-0281

 http://www.holytrinityportland.org/
 Facebook

About Holy Trinity Church
From the Church's Website:

By 1925, the Greek community in greater Portland had grown to the point where the State of Maine officially recognized the Greek Parishes of Portland and Westbrook. Shortly thereafter, the Parish community bought the old Presbyterian Church on the corner of Pleasant and Park Street.

The church, which was actually built by the Methodists in 1828, is the second-oldest existing church in Portland. Its steeple housed one of only thirteen Liberty Bells cast by the Paul Revere Foundry. The hand-crafted stained glass windows and beautiful, Byzantine Orthodox icons are a sight to behold. Today the Holy Trinity Greek Orthodox Church of Portland provides a place of worship for over 250 families in the greater Portland area and strives to enhance the spiritual life of its members.

Learn more about Holy Trinity's upcoming Greek Fest!