Greek Orthodox St. George Church in Pittsfield MA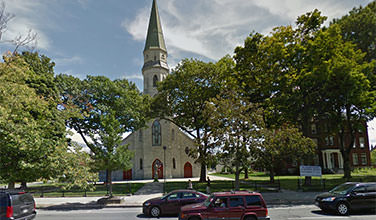 St. George Greek Orthodox Church - Contact Information
St. George Greek Orthodox Church
73 Bradford Street
Pittsfield, MA 01201
Phone: (413) 442-8113

 http://christisrisen.com/
 Facebook

About St. George Greek Orthodox Church
From the Church's Website:

Our small community of Saint George was established in 1922 by a group of Greek immigrants primarily from the Peloponnesian areas of Langadia and Agios Petros. Today we strive to serve the religious needs of all Orthodox Christians: converts, those in inter-Church marriages, those who are single and the elderly, married, children, young adults and teenagers.

Our church is located in the city of Pittsfield in the beautiful area of the Berkshire Mountains of Western Massachusetts and it serves the Orthodox faithful of Western Massachusetts, Southern Vermont and Northern Connecticut.