How to Dance the Pentozali (Pentozalis)
Watch the video below and learn the steps for the Cretan Greek Dance, Pentozali: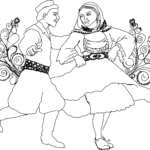 This Greek dance lesson video of the Greek dance, Pentozali was taught by the Metropolis of Boston Youth Dance Group.  This video was recorded and produced by GreekBoston.com.
The Metropolis of Boston Youth Dance Program is the folk dance ministry of the Greek Orthodox Metropolis of Boston. The mission of the program is to instill the culture and tradition of Hellenism and the appreciation of this great heritage in the Greek Orthodox youth of the Boston Metropolis through fellowship, learning, folk dances, and songs.  Dr. John Pappas, a dentist in private practice in Boston's Copley Square, has served as the director of the Metropolis of Boston Youth Dance program since 2002.  Under the direction of Dr. John Pappas, the Program has flourished and has become the only Dance Group in North America Certified by Greece's famous Dora Stratou Greek Dances Theatre in Athens.  Maria Bregianos recently graduated from Hellenic College and is pursuing a career in elementary teaching. Maria has served as an instructor since 2012 and is also assistant director of the Metropolis of Boston Youth Dance program.  For more information about the Metropolis of Boston Youth Dance Group program, please visit:  https://www.facebook.com/groups/995753947113418/.
Listen to the Greek music below for free to dance the Pentozali!
---
Disclaimer for the Greek music above that is  for the Greek dance Pentozali:  GreekBoston.com acts as an internet radio station. GreekBoston.com does not sell any Greek music on its website, music can not be downloaded and can only be streamed through the internet.  GreekBoston.com offers the Greek music sections as a benefit for its Greek audience online only.
LEARN HOW TO DANCE ALL OF THE MAJOR GREEK FOLK DANCES!  CLICK ON EACH BELOW:
Kalamatianos, Zeibekiko, Tsifteteli, Hasaposervikos, Tsamikos, Kochari, Ikariotikos, Pentozali, Hasapikos, Sta Dio and Karagouna
Do you enjoy this Greek music playlist? Please share below: