Local Greek Event Calendar
Greek School Registration at The Annunciation Greek Cathedral of New England
September 21, 2018

-

September 22, 2018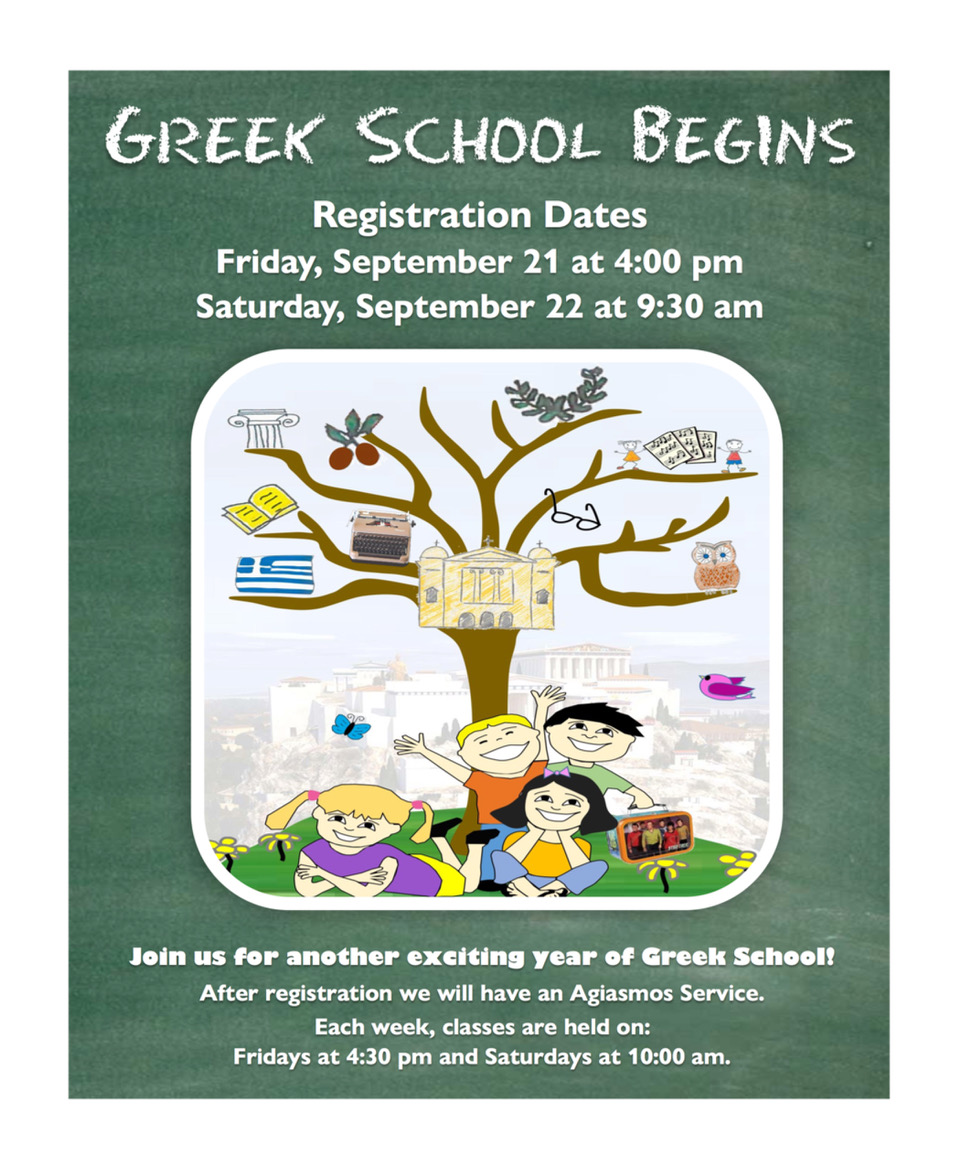 Open enrollment for the 2018-2019 Greek School Year is now available. Please call the Cathedral office in Brookline, MA and get your registration form, or log onto www.bostoncathedral.org for the PDF file. Open enrollment is for the entire Greek Community Family. Last year we had over 40 students and expecting more this year with our qualified teachers.
Also, we have an Adult Greek School Class as well. So if you want to learn Greek and or brush up on your Greek Language call the Cathedral office at 617-731-6633. Please ask for Anastasia, Greek School Administrator for information.
Official Registration September 21 and 22, but never too early to register early! The classes are conducted in our beautiful center at 162 Goddard Ave. Brookline, MA.

Άρχισαν οι εγγραφές του Ελληνικού Σχολείου του Καθεδρικού Ναού Βοστώνης. Προσφέρουμε μαθήματα την Παρασκευή 4:30 έως τις7:30 μμ και το Σάββατο από τις 10:00 πμ έως τις 1:30 μμ. Έχουμε τμήματα Pre-Κ, Κ, και όλες τις τάξεις από την Πρώτη έως και την Έκτη του Δημοτικού. Επίσης, προσφέρουμε μαθήματα Ελληνομάθειας (Πρόγραμμα εξετάσεων για την απόκτηση πτυχίου Ελληνικής γλώσσας από τοΕλληνικό Υπουργείο Παιδείας), και μαθήματα Ελληνικών για ενήλικες. Φέτος ενσωματώσαμε το μάθημα της μουσικής και των παραδοσιακώνχορών στο πρόγραμμα του Σαββάτου.
Το διδακτικό μας προσωπικό είναι άρτια καταρτισμένο, με πτυχία από Ελληνικά Πανεπιστήμια και εξειδίκευση στις παιδαγωγικέςεπιστήμες. Οι δασκάλες μας ἐχουν αγάπη για τα παιδιά, υπομονή και μεράκι για τη διδασκαλία της ελληνικής γλώσσας. Με τη μουσική και τοχορό τα παιδιά θα μυηθούν στον πολιτισμό, την κουλτούρα, τα ήθη και τα έθιμα της πατρίδας μας. Η δασκάλα μας της μουσικής είναι απόφοιτοςτου Berkley College of Music.
Το σχολείο μας διαθέτει ευρύχωρες πεντακάθαρες αίθουσες και επίσης προσφέρει μιά ωραιότατη παιδική χαρά και άπλετους εξωτερικούςχώρους για να απολαμβάνουν τα παιδιά το διάλειμμά τους καθώς επίσης και χώρους στάθμευσης προκειμένου να εξυπηρετείτε η μετακίνησητων μαθητών.
Τα μαθήματα ξεκινούν την Παρασκευή, 21 Σπτεμβρίου στις 4:30 μμ και το Σάββατο, 22 Σεπτεμβρίου στις 10:00 πμ. Οι εγγραφές θαγίνουν μισή ώρα ενωρίτερα στις 4:00 μμ και 9:30 πμ την Παρασκευή και το Σάββατο αντίστοιχα στο γραφείο του Καθεδρικού στο Μπρουκλάϊν, (162 Goddard Avenue, Brookline, MA 02445.)
Για την προεγγραφή των παιδιών σας, επισκεφθείτε την σελίδα μας στο: www.bostoncathedral.org ή καλέστε στο γραφείο του Καθεδρικούστο 617-731-6633 και μιλήστε στην Αναστασία Μωραγιάννη.
Nα έχετε ένα Δημιουργικό Φθινόπωρο και μιά Καλή Σχολική Χρονιά!
The Annunciation Cathedral Greek School has started preregistration of the 2018-2019 school year. We offer classes for Pre-K, K, and from 1st to 6th grade on Fridays from 4:30 to 7:30 pm and on Saturdays from 10:00 am to 1:30 pm.
We also offer Ellinomatheia courses (Greek Language Examination Program by the Hellenic Ministry of Education), and Greek courses for Αdults. This year we integrated music and dance classes into Saturday's program. Our music teacher is a graduate of Berkley College of Music. In our music and dance classes, children will be introduced to the culture, and customs of our beloved Greece.
Our faculty is passionate and patient. All of our teachers are experienced educators who love to teach.
The Cathedral Greek School has spacious, clean classrooms and also offers a beautiful playground and plenty of outdoor areas for the children to enjoy as well as parking spaces to help with the safe transportation of our students.
Classes begin on Friday, September 21 at 4:30 pm and on Saturday, September 22 at 10:00 am. Registration will take place half an hour earlier at 4:00 pm and 9:30 am on Friday and Saturday respectively at the office in Brookline
(162 Goddard Avenue, Brookline, MA02445.)
 To preregister your children, please visit our website at: www.bostoncathedral.org  or call the Cathedral office at 617-731-6633  and  talk to Anastasia Moragianni.
We wish to all of you a Productive Fall Season and a Happy School Year!
Like this Greek event? Please share below:
Add Your Greek Event Happening in Massachusetts, New Hampshire, Rhode Island, Connecticut, Maine or Vermont to the GreekBoston.com Calendar by Emailing Your Flyer to: [email protected]
**TO KNOW ABOUT LOCAL GREEK EVENTS THAT ARE HAPPENING:**
FOLLOW the GreekBoston.com Twitter Page HERE: https://twitter.com/GreekBoston
FOLLOW the GreekBoston.com Facebook Page HERE: https://www.facebook.com/greekboston
GreekBoston.com is NOT held responsible for any events that are listed that have wrong times, flyers or venue information. All Greek event listings on GreekBoston.com are researched by our team and submitted to us. If you see any information regarding any Greek event, Greek festival, Greek dance and Greek concert that is incorrect, please EMAIL us at [email protected] and we will fix this right away.