Recipe for Spanakopita – Greek Spinach Pie
Written by Greek Boston in Authentic Greek Food Recipes, Greek Pie and Pita Recipes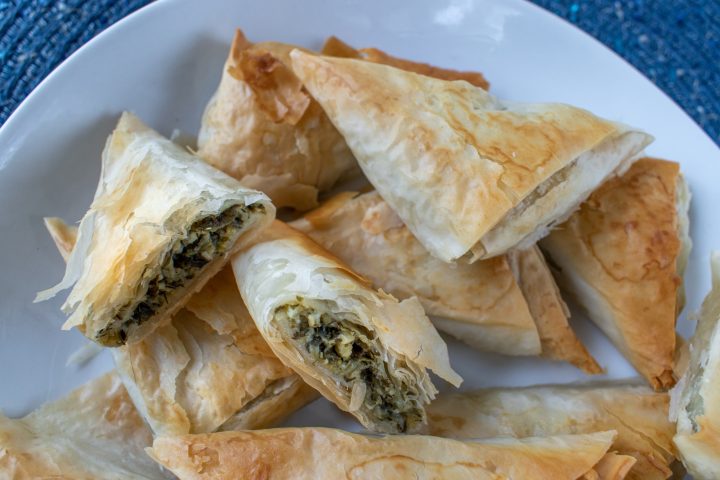 Spanakopita is mostly eaten as a snack in Greece and every Greek restaurant or deli is bound to have a tray of spanakopita ready to go for hungry customers.  Spanakopita is a savory pie made of filo dough and stuffed with chopped spinach, feta, onions or scallions, egg, and various seasonings
Spanakopita Recipe Ingredients:
1 finely chopped onion
1 pound crumbled feta cheese
2 tablespoons chopped, fresh dill
3 eggs, beaten
2 10-ounce packages ready to use, fresh spinach, chopped
1 pound filo pastry sheets
Melted Butter, for spreading on the phyllo sheets (about 2 – 3 sticks, which is about 1/2 – 3/4 cup)
Directions to Make Spanakopita:
Preheat oven to 350 Degrees Fahrenheit. Lightly butter 11x7x2-inch baking dish or 9 x 13 pan.
Mix first 5 ingredients above in large bowl.
Heat oil in large pot over medium high heat. Add spinach; saute until wilted and juices evaporate (about 3 minutes.) Transfer spinach to strainer over bottom of prepared dish.
For Spanakopita Triangles:
Unroll the filo dough on a flat surface and cut the filo into 3 by 11 inch strips. Place a small spoonful of spinach filling 1 inch from the end of the pastry. Fold the end over the filling to form a triangle. Bake until heated through, about 20 minutes.
For Spanakopita in a 9 x 13 pan.
For this version, you will not be cutting the phyllo into strips. Leave the sheets intact. Place a sheet of phyllo on the baking dish. Brush with butter. Repeat this 7 more times so that there are 8 sheets of phyllo on the bottom.
Pour the spinach mixture into the baking dish and spread the mixture with a wooden spoon so that it is evenly distributed. Place a sheet of phyllo over the top and brush with butter. Repeat 7 more times so that there are 8 total sheets of phyllo at the top.
Tuck in the sides of the phyllo. Brush the top thoroughly with butter, or pour the rest of the better over the top if there isn't too much left. Cut two long slits across the center lengthwise to make for easy cutting.
Place the pan in the center of the oven. Bake until cooked all the way through and the phyllo is golden brown. This should take 50-60 minutes total. 
There is a "fasting", or vegan, version of spanakopita eaten during the Great Lent and other religious fasts that doesn't use eggs or dairy products in the dough mix and uses tofu instead of cheese.
**Recommended cook times for GreekBoston.com Greek recipes vary depending on elevation, environmental conditions, the cookware being used, and the nature of the oven or stove. Although we have given approximations, these don't always take into account your unique environment.
PLEASE NOTE: Greek recipes can be slightly different based on a variety of reasons, such as the region of Greece that the recipe is being made in. If you have seen this Greek recipe made another way, please send us an email to greekboston@worldwidegreeks.com and we will evaluate your suggestion. Thanks!
Categorized in: Authentic Greek Food Recipes, Greek Pie and Pita Recipes
This post was written by Greek Boston