Recipe for Spanakopita – Greek Spinach Pie
Written by GreekBoston.com in Authentic Greek Food Recipes, Greek Pie and Pita Recipes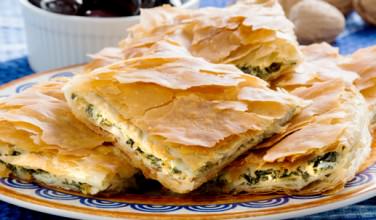 Spanakopita is mostly eaten as a snack in Greece and every Greek restaurant or deli is bound to have a tray of spanakopita ready to go for hungry customers.  Spanakopita is a savory pie made of filo dough and stuffed with chopped spinach, feta, onions or scallions, egg, and various seasonings
Spanakopita Recipe Ingredients:
1 finely chopped onion
1 pound crumbled feta cheese
2 tablespoons chopped fresh dill
2 tablespoons fresh breadcrumbs
1 large egg yolk
3 tablespoons olive oil
2 10-ounce packages ready to use, fresh spinach, chopped
1 pound filo pastry sheets
Directions to Make Spanakopita:
Preheat oven to 325″ F. Lightly butter 11x7x2-inch baking dish.
Mix first 6 ingredients above in large bowl.
Heat oil in large pot over medium high heat. Add spinach; saute until wilted and juices evaporate (about 3 minutes.) Transfer spinach to strainer over bottom of prepared dish.
Unroll the filo dough on a flat surface and cut the filo into 3 by 11 inch strips. Place a small spoonful of spinach filling 1 inch from the end of the pastry. Fold the end over the filling to form a triangle.
Bake until heated through, about 20 minutes.
There is a "fasting", or vegan, version of spanakopita eaten during the Great Lent and other religious fasts that doesn't use eggs or dairy products in the dough mix and uses tofu instead of cheese.
PLEASE NOTE: Greek recipes can be slightly different based on a variety of reasons, such as the region of Greece that the recipe is being made in. If you have seen this Greek recipe made another way, please send us an email to greekboston@worldwidegreeks.com and we will evaluate your suggestion. Thanks!
Categorized in: Authentic Greek Food Recipes, Greek Pie and Pita Recipes
This post was written by GreekBoston.com
Like this article? Please share below: