The Ancient Agora: Once the Heart of Athens
Written by GreekBoston.com in About Athens, Greece, Greek Travel Guide Comments Off on The Ancient Agora: Once the Heart of Athens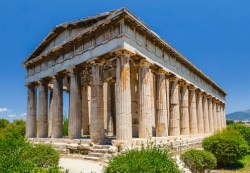 The Ancient Agora, located north of the Acropolis in Athens is often overshadowed by the Acropolis but for eight centuries was the primary meeting place of the city. It was at one time the heart of Athens and was the focal point of administrative, commercial, political and social activity.
The ancient marketplace was founded in the 6th century BC. It was the center for civic activities including philosophy, religion, arts, and athletics. St. Paul preached here and Socrates addressed his public here as democracy was born. Socrates was later indicted and executed in the state prison here in 399 BC.
The Persians devastated the Ancient Agora in 480 BC. A new one was built in its place almost immediately but was then again destroyed in AD 267 when the Herulians, a Gothic tribe from Scandinavia, destroyed it. The American School of Classical Studies began excavations of the Ancient Agora in the 1930's and the vast remains of public buildings have been revealed.
Today the Ancient Agora is one of the top tourist attractions in Greece. Unlike the Acropolis, the Ancient Agora is a grassy area and a nice escape from the congested city streets. Admission to the Ancient Agora is included with the purchase of a ticket to the Acropolis.
Some of the top Ancient Agora sights to see include:
Stoa of Attalos
The Stoa of Attalos was built by King Attalos II of Pergamum (159 BC-138 BC). It's an impressive two-story stoa. People gathered here every four years to watch the Panathenaic Procession. The American School of Archaeology and now houses the Agora Museum that displays finds from the Agora reconstructed it in 1956.
Temple of Hephaestus
The Temple of Hephaestus is the best-preserved Classical temple in Greece. It was dedicated to Hephaestus, god of the forge.
Church of the Holy Apostles
The Church of the Holy Apostles was built in the early 10th century to commemorate St. Paul's teaching in the Agora. It was returned to original form between 1954-1957.
Stoa Basileios
Stoa Basileios was built in 500 BC. It housed the office of legal affairs concerning ancient cults. Most of it was destroyed when the Goths invaded Athens in AD 267.
Odeon of Agrippa
Odeon of Agrippa is a theater built in AD 15. It featured statues of serpent-tailed Giants and Tritons on huge plinths. Two Tritons and a Giant still remain today.
Tholos
This is a circular building where the 50-member executive committee of the first parliament lived and worked. The name translates to "beehive".
Great Drain
The still functioning Great Drain collects runoff from the Acropolis, Areopagos and Agora when it rains and sends it to the Eridanos River.
Categorized in: About Athens, Greece, Greek Travel Guide
This post was written by GreekBoston.com
Like this article? Please share below: