The Best Gyro in Greece
Written by GreekBoston.com in About Athens, Greece, Greek Travel Guide Comments Off on The Best Gyro in Greece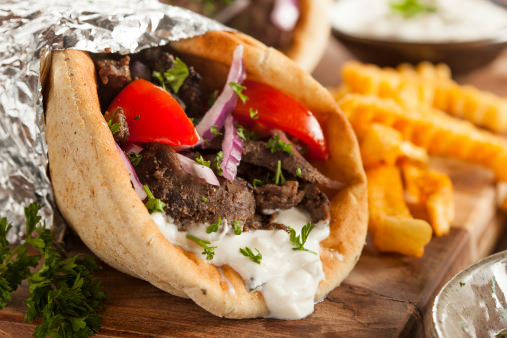 pronounced yee-roh. A gyro is a classic Greek dish that is wildly popular here in the US. The primary ingredient is lamb or beef that has been roasted on a vertical spit (imagine flipping a rotisserie chicken vertically). As the outermost layer cooks it is shaved off, exposing the uncooked meat to the heat source. A gyro is commonly served in a pita wrap with fresh tomato, onion, and tzatziki sauce.
The name "gyro" comes from the Greek word γύρος ('turn'), as the meat slowly turns on the spit. Along with Middle Eastern shawarma and Mexican tacos al pastor, gyros are derived from the Turkish doner kebab. Much of modern Grecian culture and cuisine has been heavily influenced by the Turkish world, as the Ottoman Empire ruled Greece for hundreds of year.
In Greece and Cyprus, the gyro meat is typically pork or chicken. Veal gyros are referred to as "doner" (ντονέρ). Typically the pita bread is plain and thick, but some Grecian restaurants use pita pockets and the filling is stuffed inside the pita.
Gyros were introduced to the United States in Chicago in the late 1960s. Several Greek-Americans have claimed responsibility for brining the gyro to the US, but it was Tom Pappas of Gyros Inc. who would go on to develop the modern commercial recipe for gyros in the United States. Here in the US, most gyros are made from a combination of lamb and beef.
According to Trip Advisor, Obelix Restaurant in Fira on the island of Santorini is home to the best gyros in Greece. Being the best in anything is a huge honor, but to be home to the best gyro in the land of gyros—no trip to Santorini could be complete without stopping for lunch at Obelix. Here is what some of the reviewers had to say:
Obelix was, by far, the best food I had on my trip to Greece (Santorini & Crete). The sandwiches were so good that my family and I ate there 4 days in a row for lunch.
By far the very best Gyros that we ever had!!! Don't hesitate, just buy it! It's amazing and fresh and very tasty ☺ Early morning or late night, always the best!!!
We had a LOT of gyros in Greece and this was definitely the best place we went to. The value is amazing – you get a delicious, LARGE gyro for 2-3 euros.
Now we know that claiming Obelix has the best gyros in Greece is sure to cause a lot of contention. Everyone is sure to claim that they have the best gyros in the country. So if you have been to Greece before where was the best place for gyros on your trip? Where is the best place in Boston for those that crave a gyro but can't just hope on a plane?
Categorized in: About Athens, Greece, Greek Travel Guide
This post was written by GreekBoston.com
Like this article? Please share below: