Spend Time at Katavothres in Kefalonia
Written by Greek Boston in About Kefalonia Island, Greece, Greek Travel Guide Comments Off on Spend Time at Katavothres in Kefalonia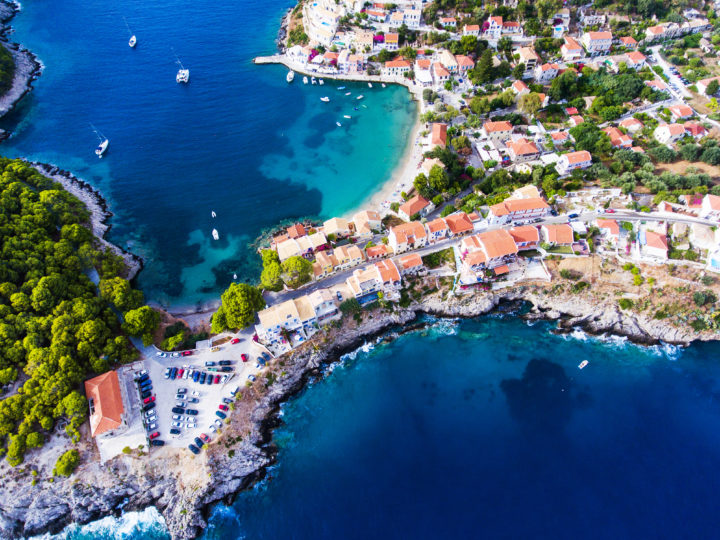 Kefalonia, Greece is an island rich in natural beauty. The glorious mountains and pristine beaches will draw you in. Whether you are looking for adventure or relaxation, the island of Kefalonia has something to offer. The island is home to some natural wonders as well. One of these is the geological phenomena at Katavothres.
About Katavothres in Kefalonia
Katavothres is a unique and astonishing geological phenomena in Kefalonia. Katavothres is 3 km from Argostoli on the way to the Fanari Lighthouse. At Katavothres the sea water enters cracks in the rocks and appears to disappear underground.
1835, an Englishman by the name of Stevens saw potential in this rare phenomena. He thought it had potential for water power and built large sea mills that would grind corn. It is also thought that another man by the name of Angelos Trombetas built a mill at the same site and his was used to grind wheat and barley for beer he brewed. The mills were destroyed in 1953 by earthquakes. They were replaced by the one that stands there today.
Until the 1960s, Katavothres remained a mystery. In 1963, a group of Austrian geologists tried something different. They added purple dye to the water to see where it would lead. For two weeks they saw nothing and then the colored water appeared on the opposite side of the island. It seems that the water flowed under the island through underground rivers. As the water reached Melissani Lake, it would mix with rainwater and exit in a more diluted form. This experiment also showed that the water that came out at the village of Karavomylos would form a freshwater lake that empties into the sea at Sami Bay.
Karavomylos lies above sea level, which means the water that comes from Katavothres must move uphill to get to its destination. A French scientist was able to explain this. He said that the diluted water, which is less salty, has a lower density allowing it run uphill.
Spend Time at Katavothres in Kefalonia
Katavothres is a lovely place to spend time and explore. Its beauty is matched only by the amazing wonder that is the geological phenomena. It is a must-see attraction if you are visiting Kefalonia, Greece. At the site, you will find a well-known café where you can enjoy a good meal along with the beautiful view. There is also a small beach where you can relax and take in the surroundings.
While in the area you can visit Argostoli Village. The village sits at the end of a natural bay that is surrounded by forests and mountains. The earthquake of 1953 destroyed the Venetian buildings that once stood in Argostoli, but the village itself has been rebuilt over time. The central square of the village of Argostoli is called Plateia Valianou. This square is large and lined with restaurants and bars.
Katavothres is found along the Fanari Road, 3 km from Argostoli. You can get there by bus, which reaches almost every area in Kefalonia, taxi, or rented car or motorcycle.
PLEASE NOTE: The Greek travel section at GreekBoston.com are not paid reviews. Our unbiased and informative travel articles are designed review the popular cities, islands and places in Greece. We are not always able to exactly match the photos to the destinations, but we do try to get close. However, we are not looking for photo submissions at this time. If you find something in a Greek travel article that is not accurate based on your personal experience, please send us an email to greekboston@worldwidegreeks.com and we will consider your suggestions. Thanks for reading the travel section at GreekBoston.com!
Categorized in: About Kefalonia Island, Greece, Greek Travel Guide
This post was written by Greek Boston
Share this Greek Travel Article: