Villages to Visit on the Island of Syros
Written by Greek Boston in About Syros, Greece, Greek Travel Guide Comments Off on Villages to Visit on the Island of Syros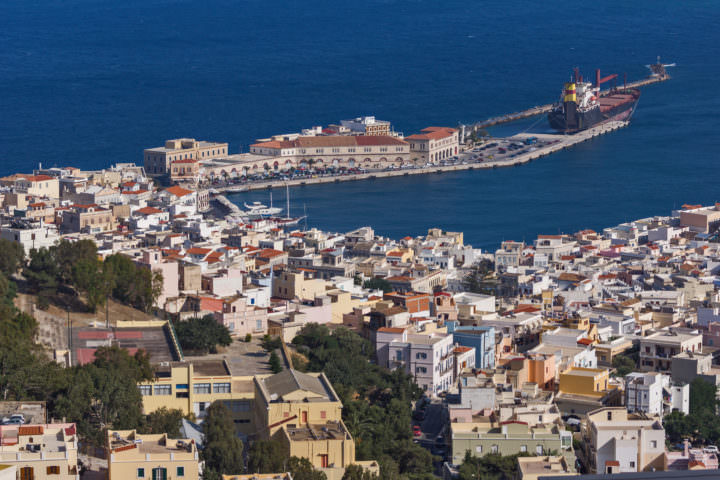 Syros is one of those whitewashed islands in the Cyclades of Greece that visitors seem to flock to. While it's neighbors, Santorini and Mykonos, tend to be a little bit more popular, Syros still has a healthy throng of people who come here each year. Many visitors come here to enjoy the beach and gorgeous weather. However, there is a bit more to it than that. Syros is a place where the past and present seem to converge, and the villages on the island can give people both experiences. Here's a look at some of the best villages to visit on Syros:
Ermoupolis
If you have time to visit only one village, you should make Ermoupolis the highest priority. More of a town than a village, the island's capital is a hub of activity that won't disappoint. The town has an interesting history since it was founded by refugees who came from islands like Chios, Crete, and Kassos. As a result of these refugeess, Ermoupolis has a vibrant, modern feel to it while still maintaining its traditional roots. As the capital, it is also worth it to consider booking your lodging here since it is centrally located and near several area attractions. The town itself is named after Hermes, the messenger god.
Ano Syros
Ano Syros, on the surface, seems like a part of Ermoupolis since it is an easy walking distance. However, it does have a distinct flavor all its own. It had its start around 1200 A.D. and has a distinctly older feel than the rest of the area. Initially, this was considered to be the "Catholic" portion of Ermoupolis with the larger town being where the Orthodox Christians traditionally lived. Although this isn't necessarily the case any longer, people do still consider Ano Syros to be the "Catholic" side.
Kini
Kini is one of those villages that is a great driving distance from the main capital on the island, which means that it makes for a worthwhile day trip. It is only nine kilometers from Ermoupolis and it is also very close to Galissas, one of the smaller villages on Syros. Kini is known for its beauty and charm and is located right on the water. As a result of this, there are plenty of resorts here that visitors love to spend time at. Kini is also known for its great cuisine and they are known for their seafood. If you don't want to stay in a larger town, Kini is a great place to reserve a room since there are so many resorts to choose from.
Galissas
Galissas, as mentioned above, is close to Kini. It is also about a nine kilometer drive from Ermoupolis. Like Kini, Galissas is also small and does have some resorts. It is also known for its beaches and people love to spend time here to soak up the sun and eat some wonderful Greek food. You could easily spend a lot of time here, especially if you are staying in a resort in Kini.
You won't want to miss the chance to visit these villages while on Syros!
PLEASE NOTE: The Greek travel section at GreekBoston.com are not paid reviews. Our unbiased and informative travel articles are designed review the popular cities, islands and places in Greece. We are not always able to exactly match the photos to the destinations, but we do try to get close. However, we are not looking for photo submissions at this time. If you find something in a Greek travel article that is not accurate based on your personal experience, please send us an email to greekboston@worldwidegreeks.com and we will consider your suggestions. Thanks for reading the travel section at GreekBoston.com!
Categorized in: About Syros, Greece, Greek Travel Guide
This post was written by Greek Boston
Share this Greek Travel Article: