About Athos, Greece
Athos is a mountain and a peninsula of Halkidiki, Greece. It is also known as the "right foot." The mountain has steep and densely forested slopes.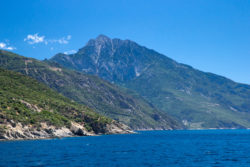 Mount Athos is also known as the "Holy Mountain." Unlike the other two peninsulas of Halkidiki, access to Athos is restricted. Special permission must be given and it's only valid for a limited time. Residents of the peninsula must be male aged 18 and older who are members of the Eastern Orthodox Church and must be monks or workers. Mount Athos is home to 20 monasteries. Today, monks from Greece and other Eastern Orthodox countries live an ascetic life in Athos. Even though Athos is connected to land, it can only be accessed via ferry.
Mount Athos is legally part of the European Union along with the rest of Greece, but the Monastic State of the Holy Mountain and the Athonite institutions have special jurisdiction. This means the Monastic State's authorities can regulate free movement of people and goods. For example, only men are allowed to enter. There is a prohibition on entry for women to make living a celibate life easier for the men. Female animals including chickens, cows, ewes, nanny-goats, and mares are also barred from Mount Athos. The only female animals allowed are: cats, insects, and songbirds.
Athos has been inhabited since ancient times and has had an 1,800-year continuous Christian presence. It's monastic traditions date back to at least 800 AD. The monasteries contain a rich collection of artifacts, rare books, artwork, and ancient documents, which are of great historical value. In 1988, Mount Athos was listed as a UNESCO World Heritage site.
In Greek mythology, Athos is the name of one of the Gigantes that challenged the Greek gods during the Gigantomachia. Athos threw a large rock against Poseidon, which fell in the sea and become Mount Athos.
Area of Athos, Greece
335.63 km2 (129.59 sq mi)
Population of Athos, Greece
1,811
Top Attractions in Athos, Greece
Byzantine Tower of Ouranoupolis – A little museum that explains the history of the tower. The view of the Ouranoupolis coastline is beautiful. Located in Ouranoupolis.
Stratoni Beach – This 800-meter long beach is well organized. There are sun beds, changing tents, and places to get food and drink. This beach is located in the Akanthios Gulf Area.
Nea Roda Beach – A sandy arc that is surrounded by a coastal settlement. It is an organized beach with white sand and clear water. Located in the Akanthios Gulf area.
Arsanas Beach – Located at the border of Mount Athos where the old naval station of the Chromitsa Monastery separates the Holy Community from the rest of the region. This beach features white pebbles and a great view of Athos.
Ammouliani Island – Accessible by boat. The island has a number of beaches to explore. The view of the mainland, especially Mount Athos, is worth the trip to the island for.
BELOW ARE INTERESTING ARTICLES ABOUT ATHOS, GREECE: