Monasteries to Visit in Athos, Greece
Written by GreekBoston.com in About Athos, Greece, Greek Travel Guide Comments Off on Monasteries to Visit in Athos, Greece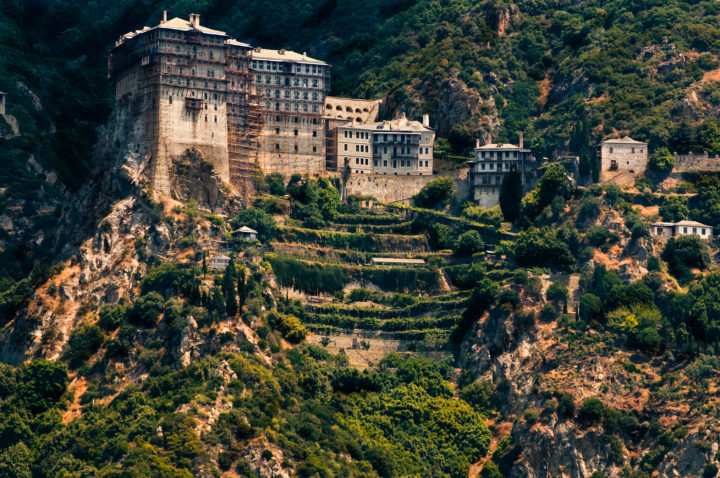 On Mount Athos today there are about 20 monasteries. The majority of them are Greek monasteries, but also one Russian, one Bulgarian, and one Serbian monastery. Here are some of the monasteries on Mount Athos that you should know about.
Stavronikita Monastery
Stavronikita Monastery is one of the smallest monasteries of Mount Athos, also known as the Holy Mountain. It was founded in 1540 by a monk named Gregory with the help of Patriarch Jermiah I. The katholicon is located in the center of the monastery and the refectory is one the first floor of the southern wing. Stavronikita Monastery has six chapels and an aqueduct that was built to provide the monastery with water.
The monastery has a defensive tower south of the katholicon. The monastery's library has 58 manuscripts on parchment, two manuscripts that are on silk, and 109 manuscripts from the 14th century – 19th century on paper. There are also hundreds of books. In addition to these items there are crosses and portable icons to be seen at Stavronikita Monastery.
Dochiariou Monastery
Dochiariou Monastery was founded during the second half of the 10th century and is considered one of the most elegant monasteries of Mount Athos. It is located by the sea, which offers a breathtaking view. The katholicon and the refectory of Dochiariou Monastery were built and decorated around 1568. Wall paintings at the monastery are dated 1675 and 1700. There are frescoes that were added during the 18th century. These frescoes are lovely copies of 14th century ones from other monuments. Monks live at Dochiariou Monastery and there is a library with 900 manuscripts.
Zografou Monastery
Founded in the 10th century, Zografou Monastery is on a slope of the southwest area of the peninsula. Three brothers, Moses, Aaron, and Ioannis, founded the monastery. The katholicon of the monastery was built during the beginning of the last century and its style follows the Athonite type.
There are eight chapels inside the monastery and eight chapels outside the monastery. During the late Byzantine period, Zografou Monastery was destroyed by Catalan pirates. It was later rebuilt. Since 1845, only Bulgarian monks have resided at the monastery.
Esfigmenou Monastery
Built by the sea, surrounded by a rectangular wall, Esfigmenou Monastery was founded during the 5th century by Byzantine Emperor Theodosius II and his sister St. Pulcheria. The remains of the early monastery can still be seen 500 meters from the current monastery. It is thought that the existing monastery was founded in the 10th or 11th century as it is named in three different manuscripts.
Esfigmenou Monastery is inhabited by monks who strictly follow the Athonite monastic tradition. In the library of the monastery you can view rare manuscripts. Manuscript number 14 is quite special due to its impressive decoration.
The monasteries of Mount Athos are unique and historic. Only men are allowed to visit the monasteries of Mount Athos and special permission is required.
Categorized in: About Athos, Greece, Greek Travel Guide
This post was written by GreekBoston.com
Like this article? Please share below: