About Lesvos, Greece
Lesvos is an island in the Aegean Sea. It is the third-largest island in Greece. The island of Lesvos is separated from Turkey by the narrow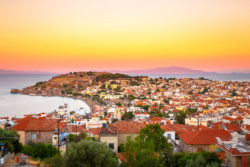 Mytilini Strait. The island is forested and mountainous. Its two large peaks, Mt, Lepetymnos and Mt. Olympus dominate the northern and central region of Lesvos. The island contains so much greenery and a wide variety of flora, that is referred to as Emerald Island. There are approximately eleven million olive trees on the island in addition to the other fruit trees that can be found. There are also forests of chestnut trees, oaks, and Mediterranean pines.
The name of the island comes from the Ancient Greek word lesbos, meaning "woody" or "forested." Hittite records from the Late Bronze Age show the name of island as Lazpa. According to Classical Greek mythology, Lesvos was the patron god of the island. It is said that many daughters of Macareus of Rhodes bequeathed their names to larger towns of the island.
During the Middle Ages, the island of Lesvos belonged to the Byzantine Empire. Byzantine Empress Irene was exiled to Lesvos in 802, and she would die there. Also during this period of the early 820s, the island served as a gathering base for the fleet of the rebel Thomas the Slav.
The oldest artifacts on the island date back to the Paleolithic period. Significant archaeological sites on the island of Lesvos include: the extensive habitation of Thermi (3000 – 1000 BC), the Neolithic cave of Kagiani, and the Neolithic settlement of Chalakies. There are also many archaic, Classical Greek, and Roman remains that have been found on the island. Vitruvius, a Roman author, called the ancient city of Mytilene "magnificent and of good taste."
Administrative Region of Lesvos Island, Greece
North Aegean
Area of Lesvos Island, Greece
1,632.8 km2 (630.4 sq mi)
Population of Lesvos Island, Greece
86,436
Top Attractions in Lesvos Island, Greece
Petrified Forest – 12 km from Sigri. The forest was petrified due to the intense volcanic activity in the area. In 1985, the forest was declared a natural monument.
Roman Aqueduct – Located in Moria. Dates from the 3rd century AD. Considered one of the first big technical accomplishments of late Roman architecture, which opened as an archaeological site in 1995.
Molyvos Castle – On top of a hill in Molyvos. Constructed around the 13th century, the castle is divided into many levels, which are connected with paved paths. Signs, coat of arms, and other distinctive features are available to view.
Skala Kalonis Beach – 42 km northwest of Mytilene. A partly organized beach with sun beds and umbrellas available. A family friendly beach with shallow water and restaurants nearby.
Vatera Beach – 50 km southwest of Mytilene. An immense sandy beach that is family friendly and partly organized. Fishing boats and yachts moor in the port of Agios Fokas.
Monastery of Taxiarhes – Located in Madamados. This monastery was built in 1700 and restored in 1879. Tradition says that the icon of Taxiarhes is made of clay and the blood of monks who were slaughtered by pirates in medieval times.
Ottoman Castle – Located at the Port of Sigri. This castle was built by the Turks in 1757 to protect the village from pirates. The castle is small with typical Arabic architecture.
Byzantine Museum – Located in Mytilene. This museum opened in 1978. It features rare Byzantine icons, vestaments of priests, pieces of screens from various churches, and ecclesiastical books.
Mytilene Beach – Walking distance from the town center. And organized beach with umbrellas and sun beds. Near the harbour, this beach is somewhat rocky in some areas.
Skala Mistegnon – 17 km from Mytilene. A secluded beach with pebbles and surrounding greenery. This beach is partly organized and family friendly.
Find Hotels and Places to Stay in Greece Through Booking.com BELOW:
BELOW ARE INTERESTING ARTICLES ABOUT LESVOS, GREECE: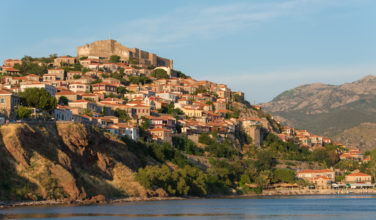 The island of Lesvos, Greece is full of mystery, beauty, and delicious cuisine. The island is rich in vegetation, olive groves, and walnut trees, oak trees, and pine...
Read More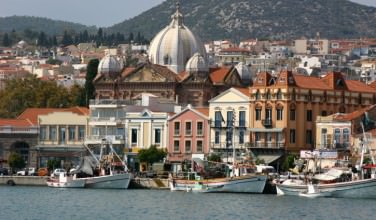 Lesvos, a Northern Aegean island, is the third largest island in Greece. What separates it from many other Greek islands is that it has many more inhabitants, around...
Read More