Greek Christening Cake Ideas
Written by Greek Boston in Greek Christening Traditions Comments Off on Greek Christening Cake Ideas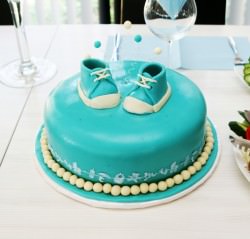 Even though cake isn't a traditional Greek food, it's still a lot of fun. So, at your child's Christening, why not have a celebratory cake to share with your guests?
This can be a fun, simple thing to serve at the reception after the ceremony, or you can serve it for dessert at a much more elaborate reception. Most function halls, for example, will allow you to bring your own cake.
Here are some ideas for cakes you can serve at the Christening:
Standard Cakes for a Christening
Most Christening cakes should at least feature white icing. Wild, crazy colors are inappropriate for this situation. Most of the designs are simple and involve white frosting with a few decorative elements in pastel color such as yellow, pink, or blue. You can either order the cake or make it yourself. You can also choose to have the cake embossed with the baby's name, the date of the Christening, and even a Bible verse.
Gender Specific Christening Cakes
You can order cakes that pertain to the gender of your child. These cakes come with a light blue accent color for boys and a light pink accent color for girls. Some cakes are also embellished with items pertaining to Christenings such as the koufeta (candy coated almonds), tulle, and crosses.
Greek Themed Cake Ideas
Another festive idea for a Christening cake is to give it a Greek theme. In this case, light blue can be reminiscent of the blue color on the Greek flag. The writing on the cake can be written in Greek, as well. You can even decorate the cake with a Greek flag. Other Greek-related decorations include scenes from Greece (such as the Parthenon) and a cake designed to look like a Greek church.
Religious Themed Cake
Serving a religious themed cake is also a great choice for a Christening. Again, the cake should be frosted with a white base. However, putting religious symbols such as a cross, an image of the church, or an icon. Keep in mind that you can also bring a photo of an icon to some bakeries and they can use a special machine to put the photo on the cake.
Photo of the Child
If you have a great photo of the child, another neat idea for decorating the cake is to have the bakery put the photo on the cake. You can then have them write other details such as the child's name, the date of the Christening, and a quote or Bible verse. You can also use a photo of the whole family.
Once you choose a cake, be sure to give the bakery adequate time to have it finished. You will want to pick it up on the same day as the Christening so that it can be as fresh as possible. The bakery will advise you on the size of the cake you will need for the number of people you expect. Once you do pick it up, be sure to take a picture while it is still intact!
Categorized in: Greek Christening Traditions
This post was written by Greek Boston