Top Frozen Greek Gyro Meat Brands to Try
Written by Greek Boston in Authentic Greek Food Recipes, Greek Cooking, Greek Style Gyro Recipes Comments Off on Top Frozen Greek Gyro Meat Brands to Try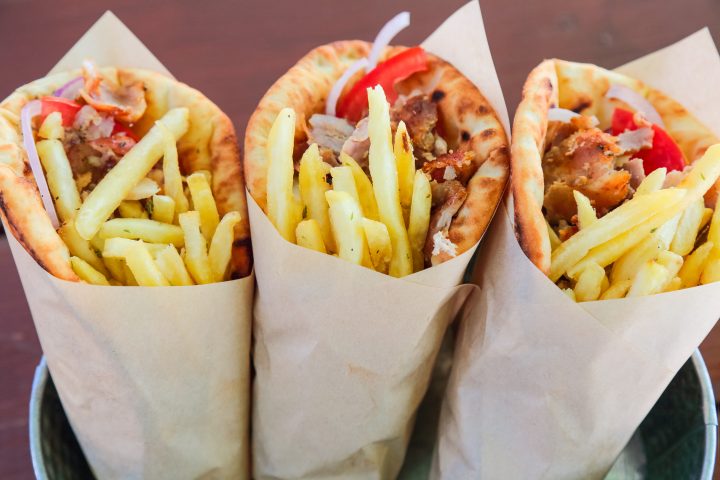 Gyros are the ultimate Greek street food, and they a popular choice not only in Greece, but throughout the world. With a gyro, a fresh pita round is stuffed with your gyro meat of choice and topped with chopped tomatoes, onions, and tzatziki. Sometimes, you can also find them with a few fries inside, although those are optional. There are also plenty of gyro variations to enjoy, and even though they aren't "traditional" they are also fun to eat and experiment with. Find traditional recipes for Greek gyros and some variations here. 
Before you can make gyros at home, traditional or otherwise, you need to find the best gyro meat that you can. Of course, you can always make something on your own, but you really need the authentic gyro meat to do it justice. These frozen and pre-packed gyro meat options are a good choice for when you want to make this iconic Greek food at home. Here's a look at some of the best brands of prepackaged and frozen gyro meat that you can try:
Kronos is a brand that carries a variety of Greek foods, including gyro meat (in cones, portions, or for individual sandwiches), Greek dips, such as the tzatziki that you'll need for a proper gyro, and the pita rounds that are needed to make the gyro. Their gyro meat is called "KronosBROIL" and is flame-broiled to give it that perfect flavor that will make every gyro you make extra delicious. The meat comes pre-sliced for convenience. This meat is a combination of beef and lamb meat.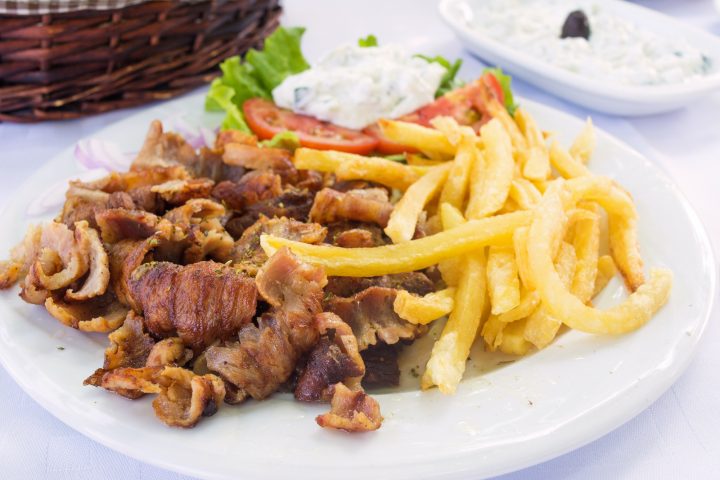 The Kronos and Grecian Delight brands are actually owned by the same parent company, GDK Foods. While the two brands do carry gyro meat, they have different offerings. Grecian Delight's gyro meat, called "Grecian Delight ReadyCarved" is made in the traditional cones you see in gyro shops, and then carved and sold in various packaging sizes, ranging from enough for one gyro, to larger packaging sizes for multiple gyros. You can also get a variety of different meats, such as pork, chicken, beef, and lamb.
If you have a Trader Joe's near you and you love gyros, you're in luck. The popular supermarket chain has its own gyro meat in the frozen food section! According to the information on their website, the brand went out of their way to capture the authenticity of the perfect gyro meat, by visiting the Greek community in Chicago and learning how to make the most authentic meat possible. It comes pre-sliced and cooked, so all you need to do is heat it when you want to make a gyro. It is a combination of beef and lamb.
Corfu Foods, which is located in Illinois, makes a variety of gyro products. You can buy the large cones direct if you need to make a lot of sandwiches, but they also have pre-sliced versions that you can buy, and are much more convenient for the home cook. They sell a variety of meats including traditional gyro meat (usually made of lamb) and chicken. You can also buy gyro slabs if you need a lot of meat, which you can heat and slice yourself.
Opaa Brand also has their own gyro meat. It comes pre-sliced and in a convenient package. All you need to do is heat the meat on the stovetop, in the oven, or in the microwave. Once heated, you can proceed with making your gyro. The company is an offshoot of the "Grecian Delight" brand. Their meat is made from a combination of lamb and beef.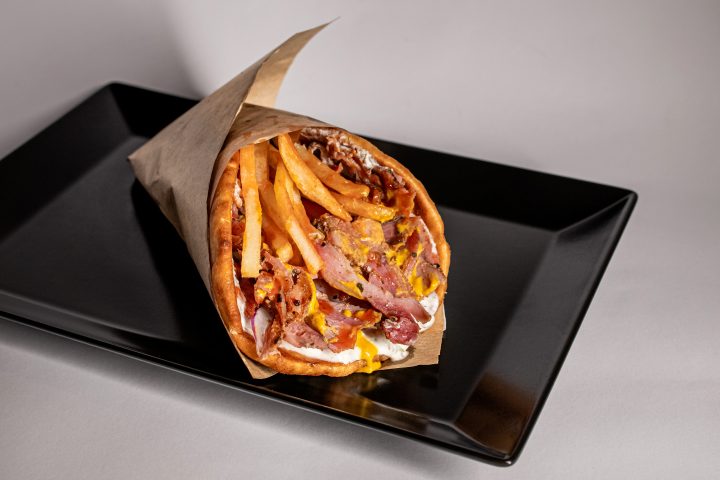 The supermarket chain, Aldi, has their own gyro meat. In fact, this version is pretty similar in flavor to Trader Joe's, which is no surprise since Aldi owns Trader Joe's. However, there is a major difference. The Aldi version contains everything you need to make a gyro at home. The kit comes with the pita bread rounds, gyro meat, and tzatziki. You just need to add chopped onion, tomato, and anything else you want to put in it. The kit has enough to make five hearty gyro sandwiches.
Besides making the iconic gyro sandwich, you can also get creative with your gyro meat once you buy it. For example, gyro plates are found all over Greece and basically involve placing the meat on a plate and serving it with fries, vegetables, and tzatziki. You can also use the meat to top salads, or to make your own sandwich variations. Creativity aside, it's certainly hard to beat the real thing!
PLEASE NOTE: Greek recipes can be slightly different based on a variety of reasons, such as the region of Greece that the recipe is being made in. If you have seen this Greek recipe made another way, please send us an email to greekboston@worldwidegreeks.com and we will evaluate your suggestion. Thanks!
Categorized in: Authentic Greek Food Recipes, Greek Cooking, Greek Style Gyro Recipes
This post was written by Greek Boston