About Corinth, Greece
Corinth is an ancient city located in Corinthia, Peloponnese. In 1858, after a 6.5 magnitude earthquake destroyed the settlement, Corinth was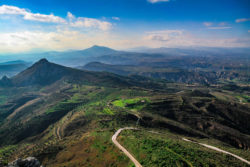 developed around the ancient site and would be known as New Corinth or New Korinthos. Located about 78 km from Athens, Corinth is surrounded by coastal and inlet townlets. Natural features around the city include a narrow coastal plain, the Corinthian Gulf, the Isthmus of Corinth, which is cut the canal, the Saronic Gulf, the Oneia Mountains, and the Acrocorinth, which is a monolithic rock overlooking Corinth.
The name Corinth comes from the ancient city-state Ancient Corinth, which was occupied prior to 3000 BC. Corinth would develop as a commercial center around the 8th century BC. The Bacchiad family (a tightly knit Doric clan) ruled Corinth from the 8th century to the 7th century BC. A tyrant by the name of Cypselus would overthrow the Bacchiad family. With his son Periander, Cypselus would rule the Corinth from 657 and 550 BC.
In 550 BC, an oligarchal government would seize power over Corinth. This government would be allies with Sparta. Corinth participated in the Persian Wars as well as the Peloponnesian War as an ally of Sparta. After the victory in the Peloponnesian War, the two allies had a falling out. In 146 BC, Corinth was captured and destroyed by Roman Armies.
In 1928, another earthquake would destroy the new city of Corinth. The city was re-built on the same site. Then in 1933, there was a great fire, which would destroy the city. It was re-built yet again.
The Corinth Canal carries ship traffic between the western Mediterranean Sea and the Aegean Sea. It cuts through the Isthmus of Corinth. The creation of the canal did not come easily. Several attempts to stop it were made. Construction once again began in 1881, only to be hampered by financial and geological issues. It was finally completed in 1893, but has only been used for tourist traffic due to how narrow it is.
Administrative Region for Corinth, Greece
Peloponnese
Population of Corinth, Greece
48, 132
Top Attractions in Corinth, Greece
Corinth Canal – Drive over the canal and enjoy the view. Stop to take pictures before going on to your destination.
Acrocorinth – Site sits on a mountain, so it's a bit of a climb. An ancient fortress. Panoramic views of the surrounding area.
Archaeological Museum of Corinth – Located within the archaeological site. Houses finds from excavations. A few of the many exhibits include: a marble sphinx, marble statue of a youth, and byzantine glazed plate.
Water Fun – A family friendly water park. Water slides, a lazy river, and large swimming pool. Food is available on site.
Giannikos Winery – Offers guided tours and tastings. An elegant, yet casual, tasting room. Learn how their wine is made in addition to tasting.
Environment Museum of Stymphalia – Focused on ecological awareness and preserving knowledge related to the region's traditional technology. Museum is located, according to myth, where Hercules slew the Stymphalian birds.
Lake Iraiou – 4 km from Loutraki. Picturesque and tranquil. Crystal clear water fed from the sea into the lake.
BELOW ARE INTERESTING ARTICLES ABOUT CORINTH, GREECE: