What to Include in a Greek (American) Easter Basket
Written by Greek Boston in Greek Easter Traditions Comments Off on What to Include in a Greek (American) Easter Basket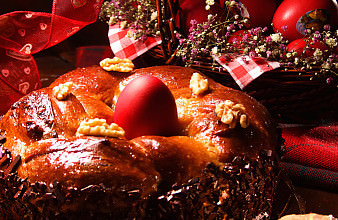 There's no doubt that Easter is a big holiday for Greek-Americans. We eat roasted lamb, slow cooked whole on a spit. We go to church on Saturday evening and don't return until the early hours of Sunday morning. Not only that, but we spend Easter Sunday with almost everyone we know!
Many of our traditions can be traced since the early days of Christianity in Greece. However, there are a few, such as giving Easter baskets to children, that we borrowed from the American culture. Although not every Greek-American family embraces American traditions such as the Easter basket, there are plenty who do! Here are some suggestions for what you can put inside your homemade basket:
Discounted Easter Candy
More often than not, Greek Easter takes place after American Easter. Some years the difference is about a week, other years over a month passes before Greek Easter takes place! The perfect way to take advantage of this is by buying Easter candy to go in your Easter basket. Popular choices include marshmallow candies in fun Easter-related shapes, chocolate cream eggs, foil wrapped Easter eggs, and Easter bunny chocolates.
Red Easter Eggs
No Greek Easter basket will be complete with red Easter eggs! It is fairly rare to find a Greek Easter celebration that doesn't have these eggs. If you don't want to include hard boiled eggs in the child's Easter basket, you could always fill some red plastic eggs with candy. The red color still represents the blood of Christ, and the plastic egg can still represent His tomb. The only difference is that you can't play the "egg cracking" game with the plastic eggs.
Toys and Activities
Another great addition to any Easter basket are toys! The nice thing about making your own baskets is that you can choose toys that you know the child will absolutely love. Popular items include stuffed animals, outdoor games and activities, craft supplies, coloring books, and other novelty toys that you know will be a hit. For instance, if you know that the child collects a certain type of doll, you could always give a doll to the collection. If the child loves to play a certain kind of sport, you can also give him or her equipment related to that sport.
Greek Pastries
If you know that the child absolutely loves Greek pastries, they make a great addition to any Easter basket! Popular pastries to eat at Easter include koulourakia, kourambiedes, and baklava. To make this part of the basket extra special, try to find out the pastries the child likes the best. Try packaging the pastries up in a special Easter-themed bag to make it even more festive.
Sure, you can always buy ready-made Easter baskets. However, making them is a lot more fun because you can really choose items that will be meaningful. Giving Easter baskets is a great way to not only adopt an American tradition, but it can also be a great way to share items from the Greek culture.
Categorized in: Greek Easter Traditions
This post was written by Greek Boston