Local Greek Event Calendar
Greek Independence Day Parade of Boston – CANCELLED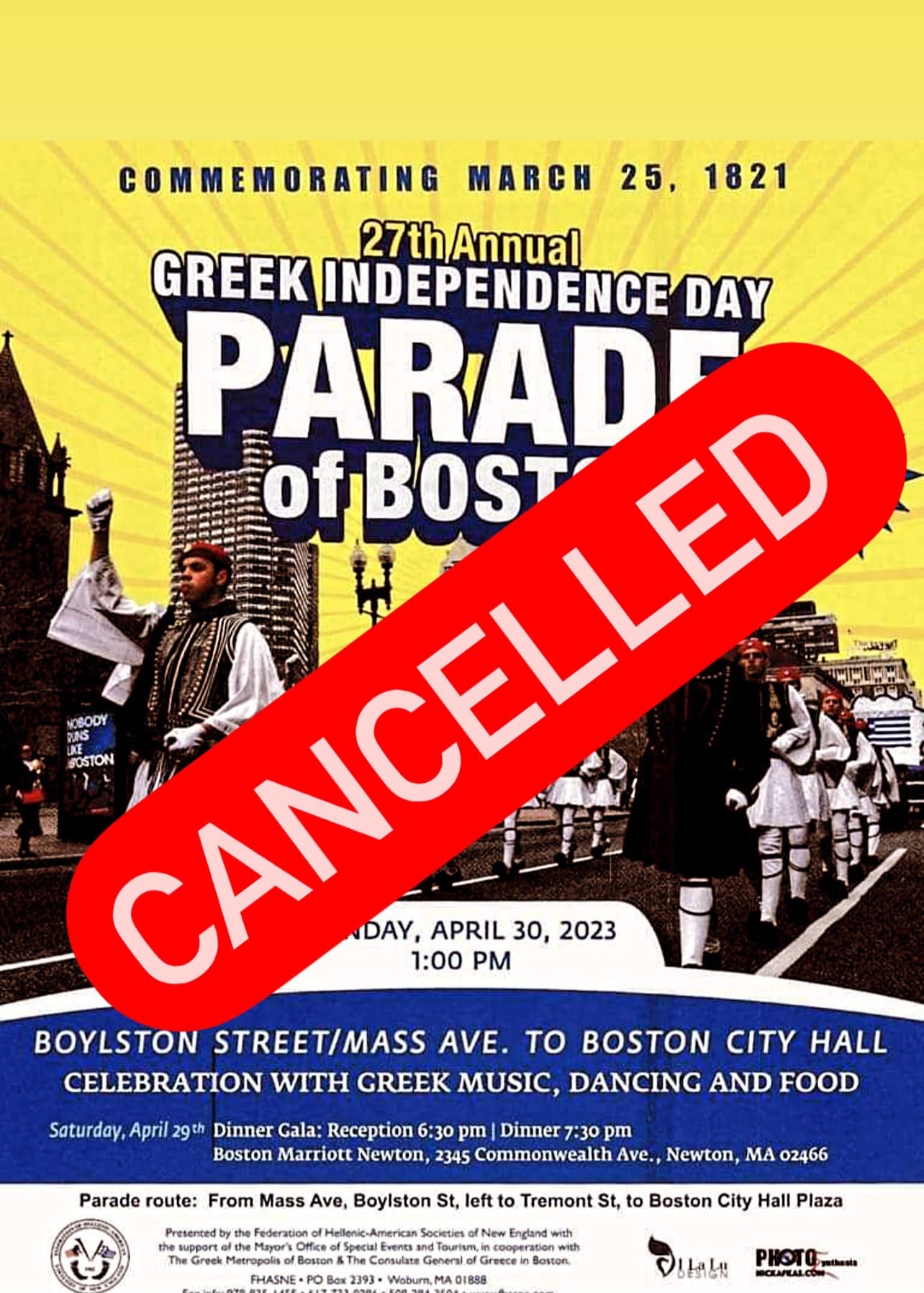 DUE TO THE WEATHER THE BOSTON GREEK PARADE ON SUNDAY, 4/30/23 IS CANCELLED
Come join us on Sunday, April 30, 2023 at 1PM for the the annual Boston Greek Independence Day Parade commemorating Greece's march to freedom which began on March 25th, 1821. The 2023 Boston Greek Parade will begin at the corner of Exeter and Boylston Street with the EU flag in front of Lenox Hotel in Boston Massachusetts.

If you have any questions about the Boston Greek Parade, please contact the organizers of the Boston Greek parade, the Federation of Hellenic-American Societies of New England by phone at:  617-930-1518 or by email to: fhasne@gmail.com
SEE THE TV RECAP FROM THE 2022 PARADE BELOW:
HERE IS THE BOSTON GREEK PARADE ROUTE:
1. Start on Boylston Street Near Lord and Taylor.
2. Up Boylston Street to Tremont Street.
3. Ending at the Boston City Hall Plaza.
The Boston Greek parade route is Boylston Street to Charles Street and ending at Boston Common where there will be a celebration of Greek music, Greek traditional dances, and Greek food.
BOSTON GREEK PARADE WILL BE ON SUNDAY, APRIL 30, 2023!
TRAFFIC ADVISORY:
Greek Independence Day Parade, Sunday, April 30, 2023

The annual Greek Independence Day Parade will take place in the Back Bay on Sunday, April 30, 2023. The parade and related events will result in street closures and traffic detours, and reduce on-street parking availability. Those coming into Boston for the festivities are encouraged to take alternative forms of transportation. For a faster return trip, the MBTA advises riders to purchase a round-trip rather than a one-way ticket.
Marchers will gather on Boylston Street, between Dalton and Exeter Streets. Beginning at 1 PM, the parade will proceed on Boylston Street at Exeter Street, up Bolyston, left onto Tremont Steet and end at the Boston City Hall Plaza for the Greek flag raising ceremony.
The following streets will be closed to traffic from Noon to 4 PM, with the Boston Police Department making adjustments as necessary:
Boylston Street, between Massachusetts Avenue and Tremont Street

Charles Street, between Boylston Street and Beacon Street
         In addition, "Tow Zone No Stopping Boston Police Special Event Sunday" temporary parking restrictions will be in effect on the following streets to accommodate these events:
Boylston Street, both sides, from Massachusetts Avenue to Tremont Street

Charles Street both sides, from Boylston Street to Beacon Street

Beacon Street, both sides, from Charles Street to Arlington Street

Arlington Street, Public Garden side, from Beacon Street to Boylston Street

Dalton Street, both sides, from Belvidere Street to Boylston Street

Hereford Street, both sides, from Boylston Street to Newbury Street
If you have any questions about the Boston Greek Parade, please contact the organizers of the Boston Greek parade, the Federation of Hellenic-American Societies of New England by phone at: 
617-930-1518 
or by email to fhasne@gmail.com
Like this Greek event? Please share below:
Add Your Greek Event Happening in Massachusetts, New Hampshire, Rhode Island, Connecticut, Maine or Vermont to the GreekBoston.com Calendar by Emailing Your Flyer to: greekboston@worldwidegreeks.com