Local Greek Event Calendar
Theo Angelopoulos Movie Series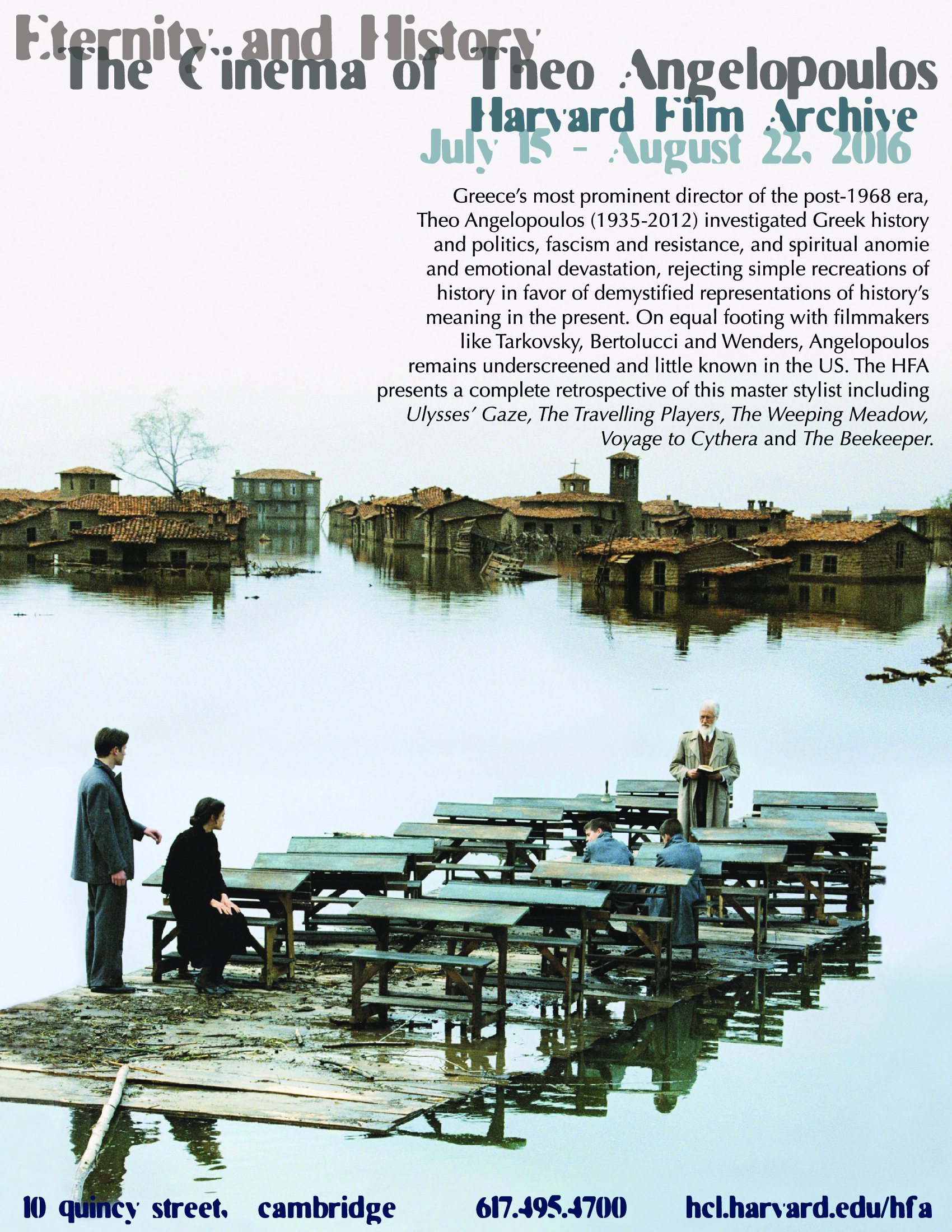 July 15 – August 22, 2016
Eternity and History – The Cinema of Theo Angelopoulos
Greece's most prominent director of the post-1968 era, Theo Angelopoulos (1935-2012) was a master stylist. His investigations into Greek history and politics, fascism and resistance, and spiritual anomie and emotional devastation place him on equal footing with filmmakers like Tarkovsky, Bertolucci and Wenders. Yet Angelopoulos' commitment to his home country, his emergence in the 1970s instead of the 1960s, and the long running times and shot lengths of his films marginalized him after his first masterpiece, The Travelling Players, premiered in Europe. Angelopoulos' major films were not shown in their first run in the US. Only in the 1990s, in the last phase of his career, did Angelopoulos' work begin to make its way onto American screens. By then he seemed like a last auteur, a terminal point in world cinema at the end of the 20th century.
Raised in Athens, where his father was kidnapped by secret police and deported, Angelopoulos intended to become a lawyer, but quit law school and moved to Paris to study film at IDHEC. He worked for Jean Rouch, the ethnographic documentary filmmaker, and ushered at the Cinémathèque Française. Under the influence of films by Welles and Mizoguchi, along with silent cinema and Hollywood musicals of the 1950s, he returned home a committed leftist, a film critic and a would-be director. He began his career in Greece at "the time of the Colonels," the same period of crackdown and repression Costa-Gavras exposed in Z (1969), the film that put Greek cinema on the map for a new generation of politically engaged viewers.
Angelopoulos developed a style of historical reconstruction defined by a roving camera, employing crane shots, long dolly tracks and slow zooms. Initially compared to the work of Hungarian film director Miklós Jancsó for that reason, Angelopoulos' oblique approach to historical inquiry has affinities with the work of Straub and Huillet, who also rejected simple recreations of history in favor of demystified representations of history's meaning in the present.
With his third feature film, The Travelling Players, Angelopoulos' early style reached its zenith. This 222-minute film was something wholly new: a penetrating, ever-moving deconstruction of Greek history and myth akin, in some ways, to Nashville (released the same year), but more ambitious and strange than Altman's film. After his early history films, Angelopoulos embarked on two modern series: a "trilogy of silence" and a "trilogy of borders." Killed in a motorcycle accident while filming on location, he did not live to complete a final trilogy on Greek history.
Rather than a last auteur, Angelopoulos now seems ahead of his time. As Greece has declined into economic collapse and political reaction under the modern imperialism of the EU and the World Bank, and as the country's refugee crisis has steadily worsened, with displaced populations fleeing war in the Middle East and massing on its borders, the themes of Angelopoulos' cinema are pressing once again. As both "slow" cinema and a new generation of Greek filmmakers (Yorgos Lanthimos, Athina Rachel Tsangari) have reached international prominence, the time has come to see Angelopoulos' work in terms of present catastrophe, not historical injustice. – A. S. Hamrah, film critic, n+1 and Harper's Magazine
Special thanks: David Schwartz—Museum of the Moving Image; the Greek Film Centre; Katerina Angelopoulou; Argyro Nicolaou.
All prints courtesy the Greek Film Centre.
For More Information Visit:
http://hcl.harvard.edu/hfa/films/2016junaug/angelopoulos.html
Like this Greek event? Please share below:
Add Your Greek Event Happening in Massachusetts, New Hampshire, Rhode Island, Connecticut, Maine or Vermont to the GreekBoston.com Calendar by Emailing Your Flyer to: greekboston@worldwidegreeks.com
**TO KNOW ABOUT LOCAL GREEK EVENTS THAT ARE HAPPENING:**
FOLLOW the GreekBoston.com Twitter Page HERE: https://twitter.com/GreekBoston
FOLLOW the GreekBoston.com Facebook Page HERE: https://www.facebook.com/greekboston
GreekBoston.com is NOT held responsible for any events that are listed that have wrong times, flyers or venue information. All Greek event listings on GreekBoston.com are researched by our team and submitted to us. If you see any information regarding any Greek event, Greek festival, Greek dance and Greek concert that is incorrect, please EMAIL us at greekboston@worldwidegreeks.com and we will fix this right away.