Local Greek Event Calendar
Divine Compassion and Women of the Church: Theological Perspectives
June 20, 2014 @ 7:00 pm

-

June 21, 2014 @ 10:00 pm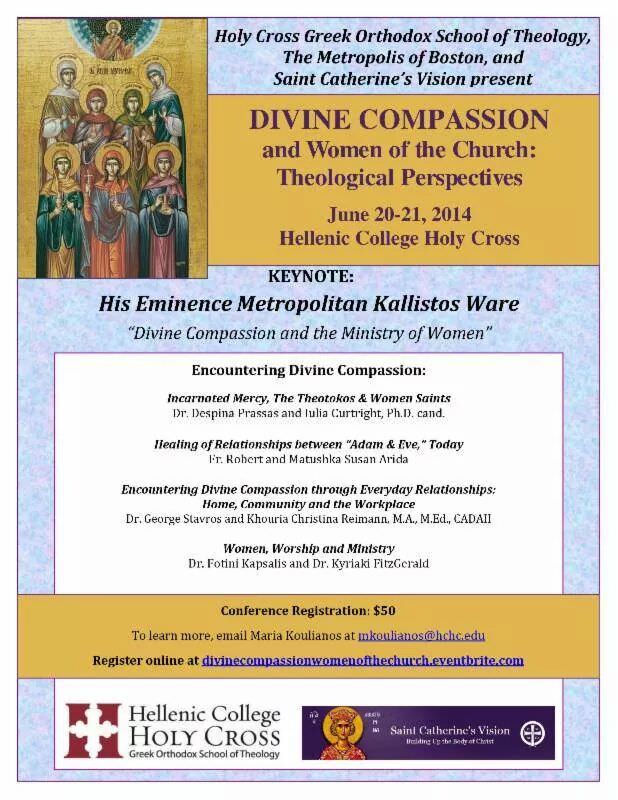 Divine Compassion and Women of the Church:
Theological Perspectives
at
Holy Cross Greek Orthodox School of Theology
Maliotis Cultural Center



This conference, sponsored by Holy Cross Greek Orthodox School of Theology, the Metropolis of Boston, and Saint Catherine's Vision seeks to cultivate a deeper theological appreciation regarding ways Divine Compassion, the eleos of God, affects the participation of women and men in the life of the Church today. The conference builds upon the work of last year's inaugural conference Divine Compassion: Orthodox Christians in Service of Perfect Love.
FRIDAY, JUNE 20th 7:00 PM
10% Discount Offered to Conference Participants
(On almost everything EXCEPT art and liturgical books.)
Keynote Address 

by
His Eminence Metropolitan Kallistos Ware



"Divine Compassion and the Ministry of Women"
SATURDAY, JUNE 21st 
8:00 AM-5:00 PM
Speakers & Discussions
Dr. Despina Prassas and Iulia Curtright, Ph.D. cand.
Encountering Divine Compassion: Incarnated Mercy, the Theotokos and Women Saints
Father Robert and Mathushka Susan Arida
Encountering Divine Compassion: The Healing of Relationships
Between "Adam & Eve," Today
Dr. George Stavros and Kh. Christina Reimann, M.A., M.Ed., CADAII
Encountering Divine Compassion through Everyday Relationships:
Home, Community and the Workplace
Dr. Fotini Kapsalis and Dr. Kyriaki FitzGerald
Encountering Divine Compassion: Women, Worship and Ministry
Presb. Athanasia M. Kostakis M.Div, MSW, D.Min cand.
Resilience in Lay Ministry from an Orthodox Perspective
Like this Greek event? Please share below:
Add Your Greek Event Happening in Massachusetts, New Hampshire, Rhode Island, Connecticut, Maine or Vermont to the GreekBoston.com Calendar by Emailing Your Flyer to: greekboston@worldwidegreeks.com