Recipe for Greek Style Roast Leg of Lamb
Written by GreekBoston.com in Authentic Greek Food Recipes, Greek Easter Traditions, Greek Style Meat Recipes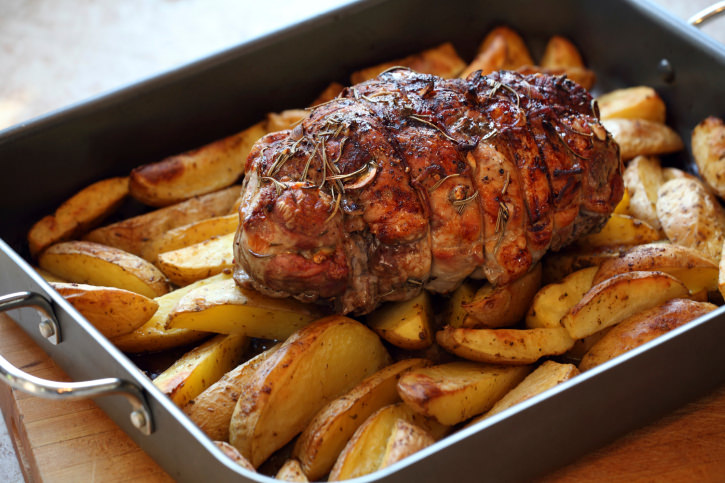 A traditional Greek favorite at holidays and celebrations, this roast leg of lamb with potatoes recipe is sure to please any crowd.
Greek Style Roast Leg of Lamb Recipe Ingredients:
4 lbs. leg of lamb
3 -4 cloves garlic
Pepper
Salt
3/4 cup butter
1 lemon
1 cup hot water
2 1/2 lbs. potatoes
Instructions to Make Greek Roasted Leg of Lamb:
Wash meat and place in a pan.
Cut garlic into slivers, dust with salt and pepper and insert into incisions made in the lamb.
Peel potatoes and quarter them. Arrange around meat in roasting pan. Melt butter and pour over meat and potatoes.
Sprinkle with lemon juice, salt and pepper. Add hot water.
Bake in a moderate oven for about 2 hours.
When lamb is done, remove to heated platter. If potatoes are not brown enough place under grill. Arrange around the roast.
PLEASE NOTE: Greek recipes can be slightly different based on a variety of reasons, such as the region of Greece that the recipe is being made in. If you have seen this Greek recipe made another way, please send us an email to [email protected] and we will evaluate your suggestion. Thanks!
Categorized in: Authentic Greek Food Recipes, Greek Easter Traditions, Greek Style Meat Recipes
This post was written by GreekBoston.com
Like this article? Please share below: