About Fourni, Greece
Fourni is a group of small islands is the Aegean Sea. The largest of these islands are Fourni (the main island) and Thymaina. On the island of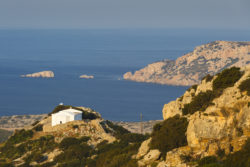 Fourni, Fourni Town is the largest settlement. The second largest is Chrysomilia. Most of the inhabitants are fishermen, but during the summer the population increases with tourists. The main island has a number of beaches as well as tourist activities.
The history of the island of Fourni began in ancient times, but there is little evidence from that time. Archaeological finds have proven that the island was inhabited during Hellenistic times. One of these findings was a sarcophagus (stone coffin) that was found in 1927 south of the church of Agios Nikolaos. This sarcophagus is on display in the square of the village. Dorian marble columns have been found in the are of Kamari. In Chrysomilia, the remains of a Temple of Poseidon were excavated. Throughout the Byzantine domination and Turkish domination, the island of Fourni was deserted because it had become the pirate base of operations. Urban legends say pirates hid their treasures around the island.
The group of islands was known for being a hub of the Ancient World. All the activity around the area resulted in many shipwrecks. The wrecks date to the 4th century BC to the 19th century BC. Archaeologists discovered a ship graveyard, which contained 53 ships. Then in 2018, another five vessels was found. Damage appears to be from fishing nets and plunderers. Archaeologists would also find amphoras that carried oil, wine, and foods as well as terracotta lamps that date to the 2nd century AD. The lamps bear the names of their artisans, Octavious and Lucius.
Administrative Region of Fourni Island, Greece
North Aegean
Area of Fourni Island, Greece
45.247 km2 (17.470 sq mi)
Population of Fourni Island, Greece
1,459
Top Attractions in Fourni Island, Greece
Psili Ammos Beach – This beach is located just 2 km north of Fourni Town. If you're looking for a secluded beach that is nudist friendly, Psili Ammos Beach is for you. The beach features crystal water and soft sand.
Chrissomilia Beach – A long, sandy beach that is secluded from the main village. Trees line the beach providing natural shade. The beach is located 15 km northeast of Fourni Town and can be reached by car or motorbike.
Petrokopio Beach – 4 km south of Fourni Town. One of the most beautiful beaches on the island with its white pebbles and transparent blue waters. Petrokopio Beach is secluded and nudist friendly.
Town Beach – This beach is located right next to the port of Fourni. A convenient beach that is within walking distance of anywhere in Town. The beach is family friendly and partly organized.
Keramidou Beach – This beach is located on the opposite island of Thimena and within walking distance of Thimena Village. The beach is pebbled, non-organized, and nudist friendly.
BELOW ARE INTERESTING ARTICLES ABOUT FOURNI, GREECE: